Executive staff & senior leadership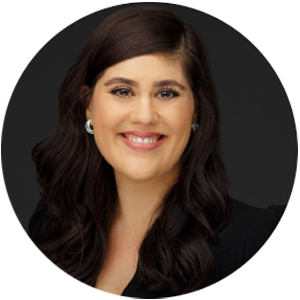 CAROLINE (CARA)
DESSERT

, ESQ .​

Chief Executive Officer
A queer Latina, Dessert is an attorney and executive with nearly 20 years in non-profit and social justice leadership. Dessert was previously the executive director of Immigration Equality, a national organization focused on LGBTQ immigrant rights.
She worked closely with the Obama Administration, as well as local, state and national organizations working at the intersection of the rights of the LGBTQ and immigrant communities.
During her first year as CEO, Dessert led The Center through a phenomenal growth phase. Under her leadership, The Center increased its budget from $6M to $10.2M annually, and service visits to more than 80,000 annually. Along with The Center's team and Board of Directors, in 2019 The Center engaged in an in-depth community-driven strategic planning process with the participation of over 2,000 community members.
Dessert led The Center in expanding its housing services to a full range housing continuum that includes the first shelter in San Diego County for LGBTQ youth, additional permanent supportive housing and prevention programs, and ongoing services and advocacy for LGBTQ community members who are at risk of experiencing homelessness. The Center also embarked on its first-ever cross-border immigration campaign which provided life-sustaining humanitarian relief to LGBTQ and HIV-positive asylum seekers and their families at the border; opened the South Bay Youth Center; started The Center's Training Institute and Black Services Program; and stood with our transgender and nonbinary community fighting back against the relentless attacks from the Trump Administration with undaunted courage and inspirational authenticity.
Prior to joining The Center as CEO, Dessert served in the California Department of Justice in the Office of the Attorney General as a Deputy Attorney General in the Public Rights Division, where she worked with then-California Attorney General (now Vice President) Kamala Harris' executive team.
She has deep roots in the San Diego area. A native of El Centro, she previously was The Center's Policy and Community Organizing Coordinator, San Diego's field director for the No on 8/Equality for All campaign, and worked for Planned Parenthood of the Pacific Southwest. She completed her JD at the University of California-Los Angeles (UCLA) School of Law, where she was the editor-in-chief of the Chicana/o Latina/o Law Review and earned degree specializations from the Epstein Public Interest Law and Policy and Critical Race Studies programs. She earned her BA at the University of California-San Diego (UCSD).
She is a Commissioner for both the Healthy California for All Commission and the Leon L. Williams San Diego County Human Relations Commission. She is married to Lisa Valenzuela.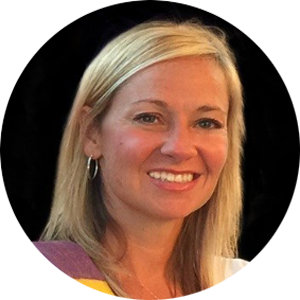 Beth Davenport, LCSW, MBA
Chief Operating Officer
Beth has nearly 20 years of experience in program development and oversight. Prior to coming to The Center in 2011, she was the executive director of adoptions and senior director of quality assurance for Walden Family Services.
She also created Walden's LGBTQ Foster Care Network, which provided safe and loving homes for foster youth who identify as LGBTQ and provided on-going cultural competency trainings for Southern California foster parents and child welfare providers around the country. Beth is a Licensed Clinical Social Worker and holds a Master's Degree in Social Work from Tulane University, and a Master's Degree in Business Administration from San Diego State University. She is currently the co-chair of the San Diego Youth Homelessness Consortium and is a board member of the California Coalition for Youth. In 2009, Beth was named by the San Diego Metropolitan Magazine to its annual list of "Top 40 under 40," recognizing her professional accomplishments.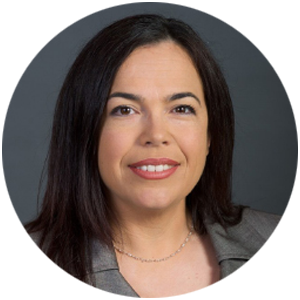 Angela M. Reyes, CPA
Chief Financial Officer
Angela is the Chief Financial Officer and joined The San Diego LGBT Community Center in 2020. She is responsible for the organization's finance, accounting, and internal audit functions.
Before joining The Center, Angela worked in public accounting for ten years managing audit engagements within the private, public, and nonprofit sectors. She also worked for several years in the nonprofit sector as the Foundation Manager for a major institutional client of the Tides Foundation, a nationally known, public foundation.
Angela holds a Master of Science in Accounting degree from San Diego State University and a Bachelor of Arts in International Relations from San Francisco State University.
Angela and her son were participants in The Center's Families program when Angela was a new parent, and she continues to be an active member of the LGBTQ community. She is a member of the Audit Committee for the San Diego Center for Children, and Treasurer of Live and Let Live Retreat.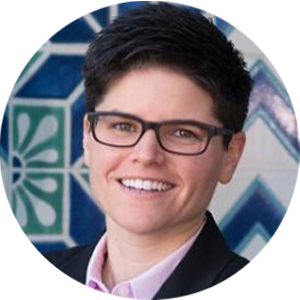 Rebekah J. Hook-Held, M.A.
Chief Public Affairs and Civic Engagement Officer
Rebekah Hook-Held is Chief Public Affairs and Civic Engagement Officer, leading the legislative policy, public affairs, and justice-focused advocacy efforts on behalf of The San Diego LGBT Community Center and the greater LGBTQ community.
Rebekah combines her public policy expertise, strong relationship-building skills, and her extensive management leadership to be a catalyst for change in our region and to build power within and on behalf of the LGBTQ community. As a member of The Center's Senior Leadership Team, Rebekah is a champion of the vision and mission of The Center, ensuring that every person we serve knows that they are welcomed, valued, and supported, and she is a fierce advocate for policies that reduce barriers to fair treatment, access, opportunity, and advancement for all our community members.
Rebekah has been with The Center since 2014 and additionally leads the strategic vision and implementation of The Center's communications and marketing department and civic engagement programs, including Engage San Diego, a collaborative network of social justice focused non-profit groups working to increase civic and voter engagement in historically and systematically excluded communities of San Diego County. Rebekah is a respected leader throughout the region and is known for her political acumen and results-oriented strategic planning. In 2015, Rebekah was honored as a "Woman of the Year" by then-Speaker of the California Assembly Toni G. Atkins. In 2022, Rebekah was recognized as a "Woman of the District" for San Diego City Council District 7 by Councilmember Raul Campillo.
Rebekah is a member of San Diego County Community College District's Trustee Advisory Council (TAC) , is a past board member of the Coalition for Reproductive Justice, and an alumna of New Leaders Council Institute and San Diego Leadership Alliance. Rebekah holds both a Bachelor's and Master's degree in Political Science from Western Washington University, where she met her wife Shawna (she/hers). Shawna and Rebekah have been married since 2015 and they are proud parents to their two young children.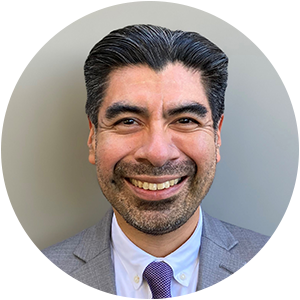 Gus Hernandez
Senior Director of Communications and Marketing
Gus holds a Bachelor of Arts in Communication from Stanford University and began his career in San Francisco at the Stop AIDS Project, Disability Rights California, Sutter Health, and Gap Inc.
In 2018, Gus was awarded a San Francisco Board of Supervisors Certificate of Honor by Mayor London Breed for his community organizing, advocacy, and leadership skills in recognition of his role as President of the Alamo Square Neighborhood Association.
Gus moved to San Diego in 2019, and prior to joining The Center he worked as a Senior Communications Manager at Illumina, where he co-founded the Latinx Employee Resource Group. He currently serves on the Board of Directors of Stanford Pride.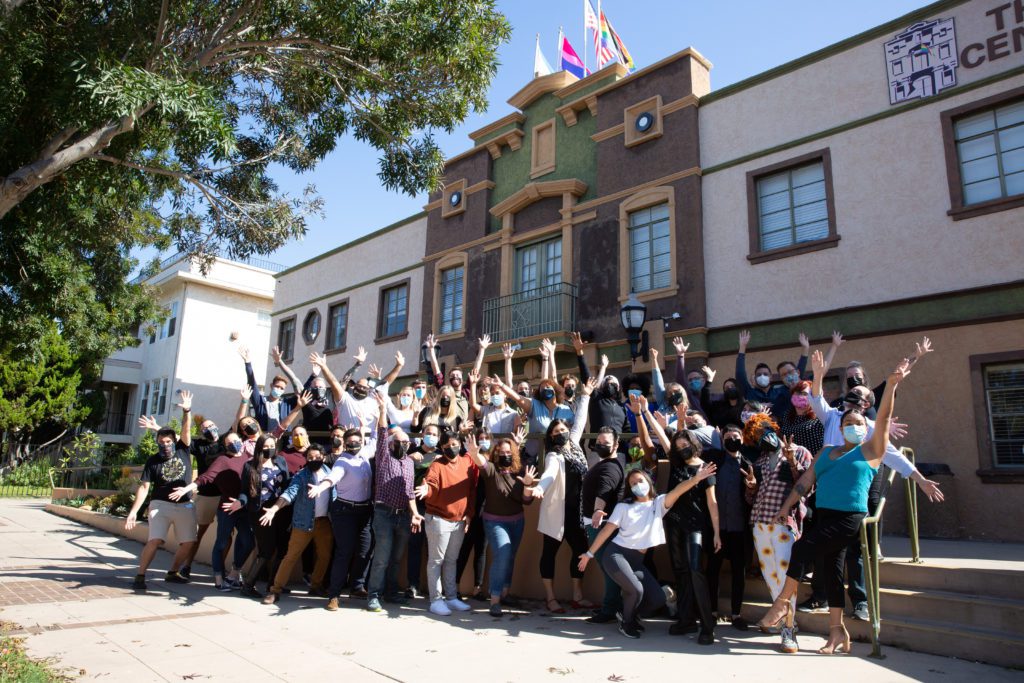 Will Abshier
Tanesha Adams
Hannah Anew
Shane Atrushi
Melissa Bailey
Elisa Barnett
Brany Barragan
Akemi Bonner
Eric Bowen
Dr. Kurt Buis, Counselor Emeritus
Melanie Cabardo
Deja Cabrera
Eva Callahan
Ricardo Calleja
Mardi Campbell
Lee Carmack
Steve Carroll
Leo Cartier Jr.
Timo Cervantez
Edgar Chavarin Ayala
Aliyah Crowder
Raphael Craan
Jason Cuneo
Beth Davenport
Stacey De La Riva
Caroline Dessert
Jessica Diaz
Arthur Doan
Victor Esquivel
Kim Fountain
Ricardo Gallego
Jared Godes
Ashleigh Green
Elizabeth Green
Malek Guerbaoui
Pamuela Halliwell
Matt Hammond
Carter Hantula
Jo Hawthorne
Gus Hernandez
Rebekah Hook-Held
Lo Horst
Crystal Hsu
Josue Jimenez
Ian Johnson
Sabrina Johnson
Stevie Juarez
Delio Ladron De Guevara
Amanda Lopez
Julian Lopez
Alissa Mancilla
Solana Mann
Prisila Martinez
Ezak Marquez
Ibeth May
Megan Meek
Sarah Merk-Benitez
Noah Mixon
Rio Moncado
Alicia Montellanos
Luis Montero-Adams
Yey Morales
Alex Ordoubegian
Jacqueline Palmer
Anita Ramirez
Carolina Ramos
Ivan Rojas
Matt Reents
Angela Reyes
Celya Robles
Jesus Sanchez
Samantha Schwimmer
Shah Shepherd
Rae Sheridan
Natalie Ortiz Soria
Joseph Severino
Francisco Soto
Isaac Snyder
Arturo Suarez
Ashley Thomas
Jasmine Tribble
L Tuiletufuga
Tiana Vargas
Sabrina Vigil
Dustin Walker
Jeremy Wells
Eric Wilson
Sign Up For
The Center's E-News