SEXUAL HEALTH AND WELLNESS | #BETHEGENERATION
WHAT IS #BETHEGENERATION?
#BeTheGeneration (#BTG) is The Center's comprehensive Sexual Health & Wellness Program that ensures individuals are empowered to take charge of their sexual health and well-being. Comprised of five tenets, this program will Empower by utilizing a robust combination of education, engagement, and services; Fight to reduce stigma and barriers and improve access to screening; Test so individuals know their status; Protect by providing information to make informed choices on how to remain HIV negative and STI free; and Treat by providing resources and care should they be diagnosed with HIV and other STIs.
Follow us on social media! Facebook: facebook.com/bethegeneration, Instagram: @BeTheGeneration2.0
Please reach out to bethegeneration@thecentersd.org or see calendar below.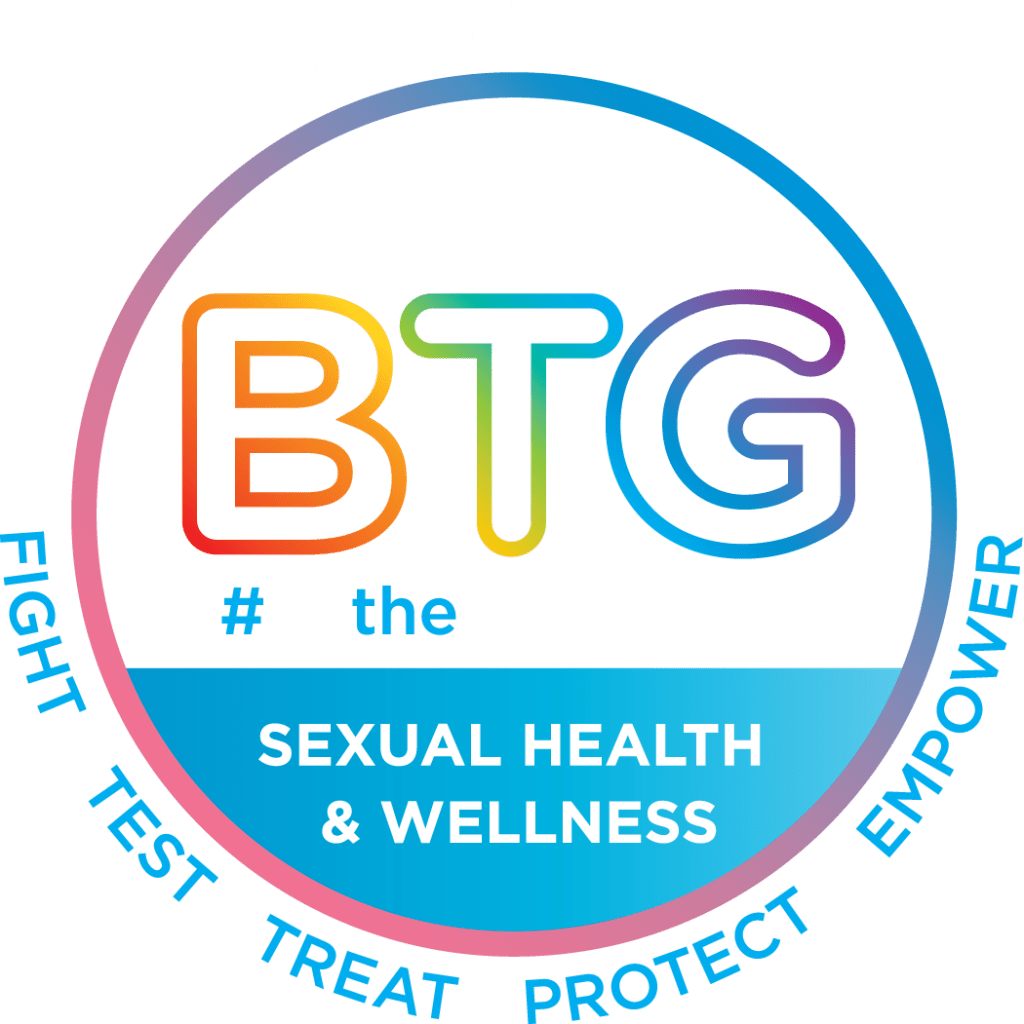 In 2014, The Center launched the groundbreaking #BeTheGeneration campaign as an aggressive and strategic effort to end new HIV transmissions in San Diego, prompted by medical evidence and offering a much-needed new opportunity to stop HIV as an epidemic. Based on findings from both the Centers for Disease Control and Prevention and the World Health Organization, reports showed that use of PrEP and PEP medications could decrease a person's HIV risk by up to 99 percent.
Today, #BeTheGeneration has morphed into an entire program that focuses on Sexual Health and Wellness for the LGBTQ community and beyond. As always, individuals, couples, and families living with HIV are welcome at all Center programs and activities. The Center also has services specifically designed for community members living with HIV/AIDS outlined below.
The Center has built strong collaborative partnerships with top community health providers Family Health Centers of San Diego, Vista Community Clinics, San Ysidro Health Centers, Planned Parenthood of the Pacific Southwest and U.C. San Diego that allows our clients a seamless link to immediate sexual health treatment and prevention support as well as long-term medical care and supplemental services that help sustain and enhance quality of life.

For more information on about HIV Services or to schedule a test, please call  619.800.4252 (9am-4pm) or 619.800.4216 (4-9pm).
Our PROMISE to #BeTheGeneration:
Stories That Impact
My name is Deja and I'm 29 years old, Transgender, a Latina, and a Performing Artist. Growing up, I didn't see any LGBT Mexican American representation in media. I always felt alone. Now, as an adult, I know that is not the case. I do what I do now to show and promote Transgender Visibility by being a voice, a role model, an inspiration, and an advocate for those who feel like they are alone. But it wasn't always that way…I was a survival sex worker for three years. Being a transgender performer, I would sometimes take men I would meet at my shows home later that evening. Condom usage wasn't always an option. Men would rather "donate" more "roses" then have to wear a condom. And sometimes that extra money meant that I could pay a bill, have enough food, or buy something girly to feel affirmed in my gender identity. The consequences of not wearing a condom was not a worry because the money was more important, at that time. I socially transitioned in 2012 and medically transitioned in 2016 and have now realized my worth, living my life fully and authentically. On February 14, 2019 I decided to show myself some love and take my sexual health into my own hands by starting PrEP. I now feel more confident to not only have sex, but to also talk about sex in a positive way without stigma or shame and to enjoy pleasure without fear. Now more than ever, I am committed to support and advocate for the transgender community, so that they have an equal chance to succeed and thrive. Visibility – especially positive images of transgender people in the media and society – continues to make a critical difference for us; but visibility is not enough and comes with real risks to our safety, especially for those of us who are part of other marginalized communities. We need to see reflections of ourselves in "REAL LIFE" situations. In professional roles, in leadership roles, in health and wellness roles.
My name is Rick, and I am a 29-year-old Latino male. I live alone in the heart San Diego's historical LGBT-neighborhood of Hillcrest and have been a member of the community for a long time. I'm actively involved in a lot of LGBT community organizations, and I also love to go to numerous community events and go to the bars on weekends. I've always loved having sex – and lots of it – and have always asked my partners about their status before engaging in any kind of sexual activity. Oftentimes, I didn't have a condom on me, so would mostly engage in lower risk activities like oral sex. When I first learned about PrEP, I thought about getting on it, but I heard so many guys say "that's only for sluts" that I was afraid of the stigma and the way people might try to shame me if they knew I was on PrEP. Luckily, I eventually got past that and made the appointment with my doctor. I've now been on PrEP for over a year. Sure, I got called a "slut" a couple of times, but I know that I am the one who has empowered myself to take care of my own health. Making the appointment to see my doctor about PrEP, and then deciding start taking it, was one of the best decisions I've made in my entire life.
My name is Venice "Pepper" Price, and I'm a 58 year old transgender woman living in San Diego, California. I've lived here since 1983, and have been happily married to my husband for 32 years. I found out I was HIV-positive over 14-years ago, and at first, wasn't sure what to do. I was lucky though to get into medical care and have made sure to visit my doctor every 3 months, and adhere to my medication. It's important to me to regularly visit my doctor so that I can continue to live and be beautiful. I work hard to encourage everyone, especially other trans women and those who are sex workers, to understand the importance of regular HIV testing. Knowing one's status is the most important way to be able to get the prevention tools or treatment that you need and deserve. PrEP is a great tool for preventing HIV, and those who find out they are living with HIV should know that the virus is no longer a death sentence! As long as people get on and adhere to their medication, they will live a long, healthy life! Finally, I'm proud to say that my husband has stood by my side throughout my entire time living with HIV and we are proof that couples can have a successful marriage as long as they connect with each other.
My name is James. I'm a 57 year old American Japanese male who's been living with HIV since 1989 and am currently undetectable. I found out about my status while I was in the Air Force and, at that time, there was no protocol for those living with HIV and they would actually put you in the Psychiatric Ward. Every year, those of us living with HIV were required to go for a yearly physical at Wilford Hall in San Antonio where Air Force recruits and basic training was done. It was very hard each year when some were missing, and we knew they were no longer with us. I don't consider myself an activist, but I do feel in control of my sexual health which empowers me to share my knowledge and experience with others. I remain undetectable thanks to TasP (treatment as prevention) and even though I am not as sexually active as I used to be, I'm comfortable talking with others about all the ways that can help protect against HIV, including PrEP. I've been in two relationships with men who were not HIV positive and had, and still have, a fear of infecting my partners, despite my undetectable status. Because of this, there are some sexual activities I feel comfortable engaging in, and others that I'm not. I'm open and upfront with all my partners about my status and because I limit my sexual activities, I'm okay with open relationships. I know that when you know your status, it not only protects you, but helps protect your partners too and I focus on that. Having lived in San Diego for over 25 years, and not currently in a relationship, I like to stay busy and give back to my community by volunteering at The Center, San Diego Pride, and Volunteer with Cheli.
My name is Kehinde and I am a 24 year old, Nigerian American gay male and I currently work as a Naval Officer. Growing up, my Nigerian family was relatively liberal, but still had beliefs which made coming out very difficult. As a result, I struggled to truly love myself and believe that I deserved to be loved. These beliefs pushed me into risky unprotected sexual behavior, overdrinking, and severe depression. I learned about PrEP while being stationed in Norfolk, but lacked the courage to proceed due to fear of testing positive for HIV. I finally mustered up enough courage to walk into the clinic, get tested and, upon receiving negative results, begin taking PrEP. I have been taking it since November 2017 and I can confidently say that I made the right choice. I have finally taken control of my own sexual health and by volunteering at The Center, I am able to guide others to the right resources necessary for them to also take control of their sexual health.
My name is Malek and I'm a 31-year-old first-generation male living in San Diego. I feel that HIV has always been a part of my life, because I grew up with close family friends that were diagnosed with HIV in the early 90s. At the time, I didn't really know what it meant to live with HIV, but I remember a fear around visiting the home of that family friend that was living with HIV. It wasn't until I decided to educate myself that I felt more at ease and comfortable knowing that I wasn't going to become positive through close contact or hugging people that I loved. When I came out, I had an intense fear that becoming HIV positive was an inevitability. I talked with other men who had sex with men and it was interesting to me that there was a shared and constant underlying fear, or anxiety, around sex. I got tested every three months, but I felt that I was always leapfrogging through time, based on "possible exposures" and "window periods". Then one day I talked to a close friend that was an HIV test counselor in town and he told me about the concept of U=U, meaning that undetectable = untransmittable. At the time, I felt informed about HIV and sexual health, but it wasn't until I had this conversation that I realized I had some major baggage around fear of sex and the stigma associated with living with HIV. A few months later I decided to register for an HIV test counselor training. It's been 8 years since I was certified as an HIV test counselor and a lot has happened since then. U=U has been confirmed by the CDC as a way to prevent HIV, and pre-exposure prophylactics finally became widely available as a biomedical intervention to prevent HIV. Although now I am married in a monogamous relationship, I still get tested every 6 months as it's been a part of my routine and I see it as a regular check-up. I find it comforting to know that there are soo many resources in San Diego that make it easy to get tested or get linked to treatment. I appreciate that I can be a part of a campaign to reduce fear and address stigma in our own community. If you feel like it, swing by one of these days to visit me in the testing lounge at The San Diego LGBT Community Center. The door is always open.
My name is Pamuela and I'm an African American transgender woman, lifelong San Diegan, and I work as a Licensed Marriage and Family Therapist. Before I even knew I could transition, I learned about PrEP while browsing through a flyer in the waiting room at UC San Diego's AntiViral Research Center. Prior to that appointment, I would never speak to my doctor about sex because it was too personal for me to discuss. After meeting with my doctor that day, though, I learned that I was at a higher risk of becoming HIV positive due to my sexual orientation and ethnicity – as an African-American woman - despite being in what I would have believed as a monogamous relationship. As a therapist, I believe it is important to speak to the communities I serve about sex, their sexual practices and behaviors, and to normalize a sex-positive environment. I want to let people know that it is ok to like, enjoy, and have sex. I want to talk to people about making sex their way, using their boundaries so everyone feels respected, safe, healthy, and consensual. I also want to help dispel the myth that many members of the communities may have by default that people who are living with HIV will end up alone. There are plenty of wonderful, attractive people who have HIV and they do not end up alone. Using PrEP, I remain HIV negative but that doesn't mean I'm any more or less healthy than someone who is living with HIV. People who are living with HIV will oftentimes be healthier than me because they have more visits to their doctor and check their health more regularly. Also, health isn't just about seeing a doctor but it's also the calmness in one's mind, body, spirit, and soul. Healthy people do things that keep them healthy on all levels. Also, people who live with HIV can be undetectable, which is one of the main purposes of medication – making it virtually impossible for the person to transmit the virus. We are all going to have sex. Talk to who you are having sex with. It may feel awkward but at least talk to them about the important things. If they don't like you or want to talk to you anymore just because you're asking a few questions, it's up to you to decide if that person is worth your time. You are giving your body to them to use for what should only be consensual pleasure. Don't do things you don't really want to do and don't waste your time risking yourself with someone that can't answer a few questions about their sexual health or is too afraid to confront it.
My name is Boyd and I'm a 63-year old gay man living in San Diego. It wasn't until just three years ago that I was faced with the need to realize my identity as a gay man. I've lived in San Diego since 1963, am intellectually gifted, moderately self-educated, an active volunteer and have been living with HIV for two years. I spent 50+ years living in the closet, and it was actually HIV that freed me from the chains of not being out. During the majority of my life in the closet, I wasn't able to make any real friendships nor was there any acknowledgement of my sexuality so all sexual contact was simply for self-gratification. This led to high-risk behaviors. I spent 50 years trying to find that gratification in bathhouses, bookstores, and bushes - and my only idea of "safe sex" was to limit myself as often as possible to oral sex. Looking back, I realize that was not protection. Since I learned that I am living with HIV, one of my goals has been to heal myself emotionally and learn all I can about HIV - research, realities, and myths. It is my opinion that HIV needs to be openly discussed in every possible forum. The virus can only be stopped through education, and behavioral modification. I control the future of the virus that resides within me. I will raise the banner of hope by doing my part to educate whomever I can. HIV needs to be discussed and education on this subject needs to be as casual and general as discussing measles, mumps or rubella. The stigma that surrounds HIV allows for the continued proliferation of the virus. The more we shame and subject those who are positive to ridicule, the less effective any preventative program for eliminating the spread of the virus will be. When I first was made aware of the #BeTheGeneration program it was the first thing that was positive for me. Before me, there were entire generations of men, women and children around the world whose lives slowly deteriorated due to HIV. There were thousands of people who participated in research projects and gave themselves as test subjects to finding a cure. These efforts all culminated in the current state of affairs that allow people like me to live a fairly normal, symptom-free life and flourish. Until science finds, develops and provides a cure for HIV, the next best thing is for me, and those like me, who are living a long happy life, to continue to educate and enlighten others about this virus. Prevention through education is key.
My name is Ian, and I'm 39-year-old male living in the Hillcrest/University Heights neighborhood of San Diego. I've been actively involved in the local LGBT community for a long time, and for many years have done extensive fundraising work for LGBT and HIV/AIDS causes. I've been living with HIV for more than 10 years, and am now very healthy – but that wasn't always the case. I've always used condoms, but there was a time when I didn't always take my ART medication to treat my HIV. I always wanted to adhere to my prescribed medication, but I was scared of the side effects and the daily reminder of living with HIV due to the stigma. I knew that taking the medication as prescribed would make me feel better and help me lead a long, healthy, productive life, but I was just in a space where I wasn't ready to adhere. I finally told myself "I understand I have to take my ART's to get undetectable so that I don't transmit HIV and can live a healthier me." Now that I regularly take my medication as prescribed, I feel great, and know that I am doing my part to prevent the transmission of HIV. It's a very liberating feeling and a huge weight off my shoulders.
My name is Daniel, and I'm a 32-year-old Filipino-American male. I live in, and am actively involved with the Hillcrest neighborhood. Just over 10-years ago, I found out that I was HIV-positive. When I first learned of my diagnosis, I was scared and didn't know what to do. I knew little about the advances that had been made in HIV/AIDS treatment, and assumed I was resigned to a few bleak options. With the support of family, friends, and my community, I'm lucky to have been able to find the very best treatment and am living a full, healthy life. I am deeply grateful for the privilege I've been afforded to have access to healthcare, knowing that many in other parts of the world do not. The community of people around me has cast aside the stigma that often comes along with HIV-positive status, and have allowed me to cry about it, scream about it, and even joke about it. My diagnosis has made me a part of a devastated population. Too many of the men and women living with HIV/AIDS have a narrative of isolation and loneliness. I'm thankful to my community for not allowing that to be my story, and I hope others who are living with HIV may be able to seek out a community who loves and cares for them.
My name is Prizila, and I am a 29-year-old Latina trans female. I live with my husband of 11 years in the North Park neighborhood of San Diego. I'm actively involved in foster care work and empowering the transgender community through involvement in LGBT community organizations. I am also currently pursuing a degree in social work. Being diagnosed with HIV at the critical age of 16, I didn't want to approach it yet because I was dealing with socioeconomic issues and at the same fully realizing my identity as a woman. Through managing my HIV and transition, I was able to utilize the resources available that make treatment and transition possible. I've been on treatment for 9 years now, which has led me to be healthier and be in control. I do not view HIV as a death sentence or a disease, but rather as another obstacle in my life. Using methods such as condoms and my husband being on PrEP has prevented HIV from hindering our relationship. It is always important to be aware of your status regardless of whether you think it applies to you or not. Now I'm in a space where I can truly say I love myself and will continue to follow my doctor's advice and take the medication needed to continue making a difference in other's lives, and close the chapter of my transition.
My name is Benny, and I'm a 37-year-old male living in San Diego's University Heights neighborhood. I'm a lifelong San Diegan, and have participated in the local LGBT communtiy since I was 16 years old. When I "came out" as gay at 17 years old in 1997, everyone kept telling me to "be careful." I finally figured out that they were telling me to "be careful to not get HIV." While things were getting better in the HIV treatment field at this time, it was still a frightening time and the education I received was not comforting. I'll never forget the panel of HIV-positive speakers my high school had speak to a school assembly one day. There were 4 young gay men, all in advanced stages of HIV or AIDS. They all looked very sick, and the message was: If you have unprotected sex, this will be you. Because of this scare tactic, sex became something that I feared deeply. Every time I engaged in sex, I would worry that I contracted HIV. I was so afraid that I lived under the "ignorance is bliss" mantra and did not have my first HIV test until I was 28 years old - 13 years after my first sexual encounter. Since that first HIV test, my testing frequency remained infrequent at best. Even as an HIV test counselor with a lot of knowledge and education that I share with clients, the fear remained in me- it's hard to kick. I finally got up the courage a few months ago to get on PrEP and I couldn't feel more empowered. I no longer fear HIV testing (or sex) and enjoy my quarterly doctor's visits (rather than fearing them or deciding what excuse I'll use to tell the doctor to exclude an HIV test from my lab work). I am proud to be on PrEP and want to continue to use my story of fear to help others who may be feeling the same way.
I first came out as gay but began to identify as nonbinary shortly after moving to Hillcrest – being certain that I was "just a man" wasn't necessarily my reality anymore, and I started wearing makeup or even sometimes dresses and heels to empower myself within my femininity, explore the different parts of my queerness, and show myself to a world which often likes to pretend that people like me don't exist. In the midst of coming out as nonbinary, I was fortunate enough to begin working as the PrEP Coordinator at The San Diego LGBT Community Center, where I help folks of all backgrounds and identities get and stay on PrEP. I sometimes joke that I have come full circle from talking about sex with all my friends in college to talking about sex professionally with members of my community so they can be happier, healthier, and more empowered. I'm also happy to say that I am on PrEP myself – for me, getting on PrEP was not something I felt like I was just doing for myself, but for my community as a whole. I believe it is especially important for nonbinary and trans folks to be visible about their sexual health. As trans and non-binary folks continue to be centered more in discussions of LGBTQ issues, the realization that we are not alone, that there are tools and people here to help us, and that we are worthy of fulfillment can be a transformative moment in the life of an individual and the spirit of our community.
Hi! My name is a.t. Furuya and I'm an Asian transgender/non-binary individual who came out later in life. While I am currently in a monogamous relationship, I was previously into one-time hook-ups and not into call backs - but I was tested for HIV regularly. When I would participate in these hook-ups, I would always bring my own condoms, but rarely asked the other person's status, and would sometimes hook up for affirmation of my identity or to feel wanted. I decided I wanted to become more assertive and informed using self-advocacy to talk to sex partners and my doctor about sexual health and PrEP. When I first tried to have a conversation with my doctor about PrEP, they told me that I wasn't considered high risk because I'm Asian and also AFAB (assigned female at birth) - even though my sex partners were gay men. I was told that PrEP was more "for them." Then, when I was told it would take at least 3 months for me to even get an appointment, I just gave up for a while. My life is already complicated enough (trying to access surgeries, hormones, and society misgendering me) so I didn't want to have to deal with one more thing. Since then, PrEP has become easier for many people to access, and it's become much more accessible for low income folks. Now that I know more about PrEP, I know what to ask for, how to start the conversations, and speak up for my needs. I want this empowerment for all of our youth, as well as queer and trans people of color. I also know that if any of us ever happen to run into a medical professional or insurance company that doesn't know how to help, the Center has someone specifically hired to take us through the process to make sure we have access to PrEP.
Mi nombre es Raul Robles. Soy un hombre cisgénero gay que a vivido en Chula Vista desde mi adolensencia. Soy un ciudadano Americano orgullasamente y un hombre Mexicano hasta la muerte. Tengo dos pasiones grandes en la vida, primero es cuidar a mi madre y compañera de 90 años de edad. Mi segunda pasión es mi comunidad LGBT y participar en varios programas y estudios de VIH en el condado de San Diego. Como muchos jóvenes, saliendo del closet para mí fue una de las cosas más difíciles y emocionantes de mi vida. En los principios de mis 20's, la falta de información y la estigma de nuestra sociedad hacia personas LGBT causo que fuera a explorar mi sexualidad en lugares oscuros, sucios, y vergonzosos. Aun pensé que ser abierto como gay era el mejor sentimiento que podría tener. Hace unos años atrás, en medio de la epidemia de VIH, fui diagnosticado como VIH positivo. En ese momento todo mi mundo y el de mi familia sentía que se desplomaba. Pensábamos que era una sentencia de muerte para mí. Viví en soledad y negacíon por varios años. Vi a mi compañero morir de complicaciones de SIDA en 1982, y fue entonces que tuve una epifanía que me tenía que cuidar. Tenía dos opciones, vivir mi vida en solitud y avergonzado, o vivir una vida completa. Fui a mi doctor y empecé tratamiento para mi VIH. Ahora soy feliz en poder decir que llevo 10 años indectectable de VIH. Tengo orgullo de poder decirle a personas sobre mi tratamiento y mi experiencia con VIH para darles animo a vivir una vida feliz y saludable a pesar de tener VIH. Ser abierto sobre VIH es una manera importante para combatir el estigma y educar a mi comunidad sobre poder vivir indectectable de VIH. Gracias a la ayuda de mis organizaciones ya regrese a la escuela y ahora puedo establecer nuevos objetivos en mi vida.
Hi, my name is Alex Ordoubegian and I'm a 30-year old male of Middle-Eastern origin living in San Diego's Hillcrest neighborhood. I've been very active in the local LGBT community for a long time, particularly the local LGBT sports leagues. Until recently, I was in a long-term monogamous relationship, so things like condoms, HIV testing, and more were relatively foreign concepts to me. Since my breakup, I've suddenly found myself worried about everything related to sex, and felt forced to use condoms – or else. While condoms are an effective tool to prevent HIV and other STIs, I knew that there had to be something else that would keep me safe, and give me added peace of mind. I educated myself about PrEP and was determined to get on the once-daily pill that is highly effective at preventing HIV infection. Along the way, I found myself falling victim to a lot of the stigma that still exists around HIV and PrEP. While it's hard to hear negative comments from friends and others online, the best thing anyone can do is simply protect themselves. I am proud to be on PrEP, as I have taken control of my own health. I will continue to take PrEP to protect myself. I will also fight to end the stigma that exists about the medication by having conversations with anyone and everyone, any time, any place.
My name is Donald Franklin. I'm a 41-year old mixed-race (African-American, Native American, British, Burmese, Indian) gay male who lives in San Diego's Hillcrest neighborhood. I work as an HIV researcher and have been a part of this community for many years. I'll get straight to the point: I love sex (even if I don't get it very often!). Because of my love for sex, I've always gotten tested for HIV regularly. And while I always ask my partners about their HIV status, I tend to reduce risk by engaging in sex more often with known partners. For a long time, I wanted to get on PrEP to give myself a greater peace of mind related to my sexual health. While I was aware of the stigma associated with PrEP use (being slut shamed, etc.), my larger concern was the research results from PrEP studies. As a researcher, I had seen the early results, but I wanted to see the effectiveness rates from larger studies. I eventually got on PrEP and immediately felt more empowered and at ease about my sexual health. While I was instantly confronted with people calling me a "Truvada-whore", it gave me the opening I needed to educate people about how PrEP works. I got the most traction from reminding these people that the same thing was said years ago about women who went on birth control. I'm happy to say that I was able to convince many people to go on PrEP. I know that PrEP works and I want to help other people decide if PrEP is right for them!
My name is Juan Sebastian Ayala and I'm a 27-year old Chicano (Mexican-American) male. I was born and raised in San Diego, in the City Heights neighborhood, and I keep busy as a yoga instructor, and a student of artistic social services. I've been living with HIV and undetectable for three years. In the past, I hadn't always used condoms during every sexual encounter, and sometimes I had sex because of internal doubts about my own self worth. I felt a great need to connect more to people I met and not always go straight to sex, but didn't know how to do that. Being HIV positive made me feel like I wasn't worth anything, and I worked hard to change my personal perspective of my own self worth. I did this by diving into self discovery, and working toward personal goals that made me feel good about myself. Since I've been able to make this change, I've had a much greater connectivity with my community, and more self confident, and genuinely feel better about myself and my partners!
My name is John and I'm a 68-year old Dutch, English, Irish, Scottish, German-American with a smattering of Native American, Latin American and probably more living in San Diego's North Park community. I'm a longtime LGBT activist and artist, and I've been in San Diego since 1975. I'm also an HIV survivor, living with the virus since 1985. Prior to and for a few years after being diagnosed with HIV, I engaged in some very self-destructive behaviors and substance abuse. I needed to reconnect with my communities in a healthy, nurturing way, but I was full of shame, fear, grief, fatalism, and misinformation. Luckily, in the early 1990s I found some accepting and nurturing community groups which led to deeper and more compassionate personal relationships. Finding leadership and volunteer opportunities along with inclusion in HIV, LGBT, religious, and arts groups really changed my path, and I've enjoyed participating in the community ever since.
My name is Stevie, I am a 29 year old native San Diegan Latinx who has been taking PrEP as prevention for 3 years. Once I started the process of coming out people around me started telling me that as a gay male I run a higher risk of being infected with HIV and other STI's. Given that, I became fascinated with the science of HIV and the strides we've been making in finding a cure for it. Once I discovered Truvada and how it reduces someone's viral loads to undetectable if they are Positive, I was in awe, especially once I found out that if someone who is negative takes it as well that it'd significantly reduce their chances of contracting HIV. After that I started to become a strong advocate for PrEP since I'd always noticed the stigma around HIV. I noticed that people who are positive are treated like damaged goods. I then made it my goal to begin defeating the stigma around HIV. I made it a goal to educate my peers in regards to how HIV actually works and teach them more about safe sex in casual conversation. We are a very sex positive community which shows how much we've progressed, but with that progress comes educating one's self. Once I found out more about #BeTheGeneration I was thrilled that there were more people who had the same perspective as me who are passionate about defeating the stigma as well. It's vital for people to know that being HIV positive is no longer a death sentence, in fact it's quite the contrary now; Positive Undetectable people live long and fulfilling lives now. We can be the generation to not only defeat the stigma but also end HIV.
My name is Collin and I am a 27 year old male living in North Park with my boyfriend. I have spent much of my 5 years in San Diego active with the nightlife scene both as promoter and participant but more recently increasing my civic engagement to make a positive impact in our San Diego community. Since I was a teenager, sexual health fascinated me so I always considered myself knowledgeable about HIV and other STIs. Growing up in Louisiana there was lots of stigma around being LGBT or living with HIV. In high school I was fortunate to meet one of my closest friends, who happened to be living with HIV. Through his friendship he taught me about the importance of being open and honest with ourselves and our partners and that we are ultimately the one in charge of our sexual health. I moved out of state for college and really started to develop my identity as a gay man—and develop a love for sex. I used condoms most of the time in my first few years of college, but as time went on, found myself using them less and less. I would discuss status and testing with partners but at the end of the day I knew that if I ever tested positive, I would be responsible for my own health. I was fortunate enough to have easy access and a good relationship with Student Health Office at my university that enabled me to stay on top of my sexual health. I started hearing about PrEP in early 2013 and found myself wanting to learn more about it. Social media around this time was filled with "slut-shaming" and "Truvada-whore" articles and I found myself initially hesitant to go on PrEP. However, I knew that PrEP was the right decision for me. In early 2014, I began getting the ball rolling on starting PrEP and have been on it ever since. It never changed my behaviors but became another tool in the toolbox in HIV Prevention because only I could be held accountable for my actions.
My name is Kyron, and I'm a 26-year-old proud, gay, black man. I currently live in San Diego's Bankers Hill neighborhood. I have been a certified HIV Test Counselor for the past 2 years and have developed a passion for the community and expanding my knowledge about HIV. Last year, I experienced delivering my very first preliminary positive test result, and the situation shook me to my core. The client was a mirror image of myself. He was a gay, African-American man in his mid-twenties, originating from the same city, and in San Diego under similar circumstances. After the initial interaction, I selfishly hoped his test came back with a negative result because of my own internalized stigma and the parallels of our personal lives. The client was visibly nervous and with every passing minute of the test, he seemed to sink deeper into the realization that he was going to be told he was HIV positive. The test confirmed that he was in fact HIV positive. After the disclosure, I was totally shocked at his reaction. He was upset, but he continued to carry himself with confidence and pride. Growing up conservatively, I held the stigma of HIV unhealthily close to my conscious even with all the education I had in sexual health. That same stigma is extremely common in the African-American community and other black communities in the country due to strong religious beliefs, internalized homophobia, and lack of healthcare and educational resources. The experience with this client, however, took all of that stigma away from me. I worked with the client over time to schedule his appointments and help him come up with a plan to disclose his status to his partners, family, and friends, all of whom turned out to be extremely supportive. We ended up building a great rapport and I realized the importance of such a chance encounter. It occurred to me that I had a special role as a young, black HIV tester and counselor in San Diego. I fit the profile of many young gay men of color who were bound by a wretched stigma that extended from years of our demographic being entirely underserved. After the experience and sharing my personal feelings with my manager at the time, I was enrolled in several trainings related to HIV to help me better serve our community and strive to make a difference through education, prevention, and most importantly, representation.
The Center's Sexual Health & Wellness Programming and Events
Sign Up For
The Center's E-News