ROOM RESERVATIONS ARE NOW OPEN!
Thank you for considering The San Diego LGBT Community Center as the place to hold your meeting or special event. Creating space where community members, organizations and groups can connect is an important part of the work that we do, and we are proud that we are able to provide meeting space at the most competitive rates available in the Uptown area.
Here you will find our policies and procedures related to Room Rentals at The Center. We hope that you will be able find all the information that you need below, however; if you have any questions or concerns, please contact the Welcome Services Team, at 619-692-2077 x102 or hello@thecentersd.org.
To reserve a room, The Center requires all groups to complete an online Room Rental Request form found on this page. After completing the online Room Rental Request form, you will receive a Room Rental availability email/call from a Center staff member. Please note that The Center is unable to make a room reservation until the online Room Rental Request form is completed, the Room Rental Contract is signed and turned in, and the appropriate deposit and insurance requirement is received. Room Rental fees are due 30 days prior to the event. If your event is within 30 days, please see Room Rentals packet here for instructions. Thank you for understanding! 
FACILITIES: All available rooms are located on the ground floor of The Center and are wheelchair accessible. All rooms have access to three (3) All Gender restroom facilities. ADA accessible restrooms are also available. Parking lot access is available on a first-come, first-serve basis.
COVID-19 SAFETY PROTOCOLS: In order to maintain the safety of all people present at The Center, all individuals ages 18+ in the building will be required to present proof of COVID-19 vaccine and booster. Temperature checks and KN95 or N95 masks are required. Those who have special circumstances who need to remove their mask for lip reading and respiratory issues will be permitted. We will continue to evaluate the case trend in San Diego and will adjust this requirement for clients accordingly.
Floor Level: Main Ground Floor
Capacity/Dimensions: 12 rolling chairs/6 tables, approx. 6 additional event chairs may be added without tabletop access
Room Dimensions: 23' x 12' 11"
Minimum Rental: One hour
Special Amenities

Equipped with Hearing Loop
Wi-Fi Connection
Luxury Vinyl Plank Flooring
No Exterior Windows
Air Purifier
Audio and Visual equipment with additional fee
RENTAL FEES
Deposit: $30
Small Non-Profit Organization: Free one-time use; $20/hour for recurring events
Partner Organization: $30/hour
Mid-Size  Non-Profit Organization: $50/hour
Large Non-Profit Organization: $75/hour
For-Profit/ Public Rate: $100/hour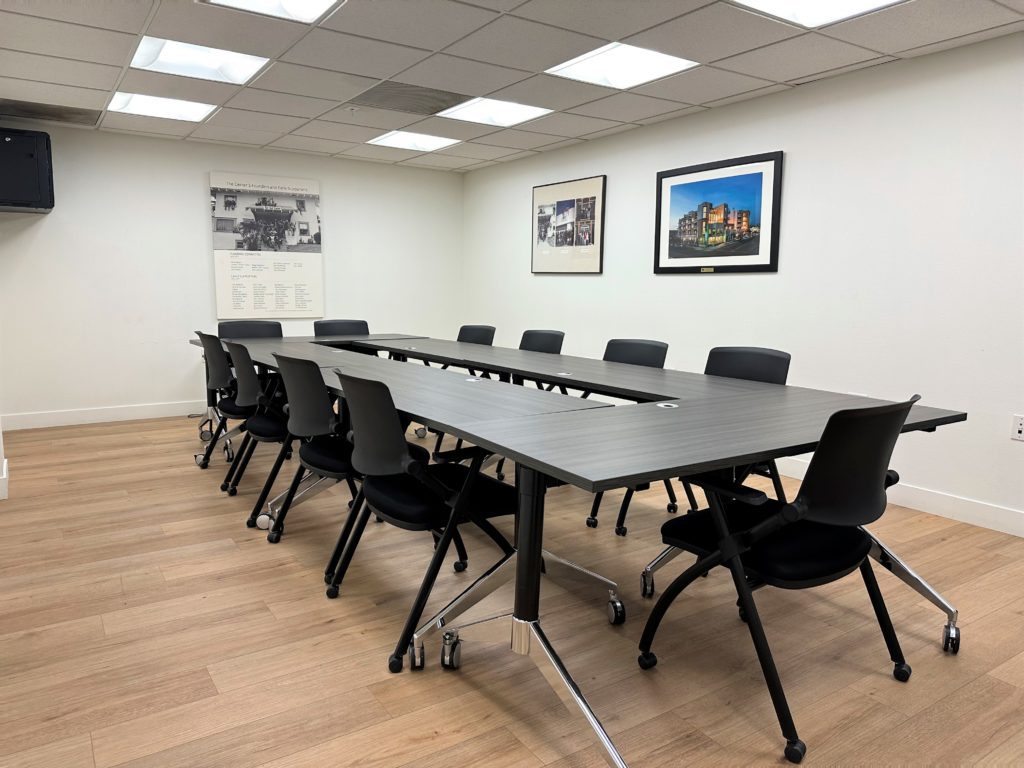 Floor Level: Main Ground Floor
Capacity/Dimensions: 16 rolling chairs/8 tables, approx. 6 additional event chairs may be added without tabletop access
Room Dimensions: 18' 7" x 20' 3"
Minimum Rental: One hour
Special Amenities

Equipped with Hearing Loop
Wi-Fi Connection
2 Large/1 Small Window
Air Purifier
Audio and Visual equipment with additional fee
RENTAL FEES
Deposit: $30
Small Non-Profit Organization: Free one-time use; $20/hour for recurring events
Partner Organization: $30/hour
Mid-Size Non-Profit Organization: $50/hour
Large Non-Profit Organization: $75/hour
For-Profit/ Public Rate: $100/hour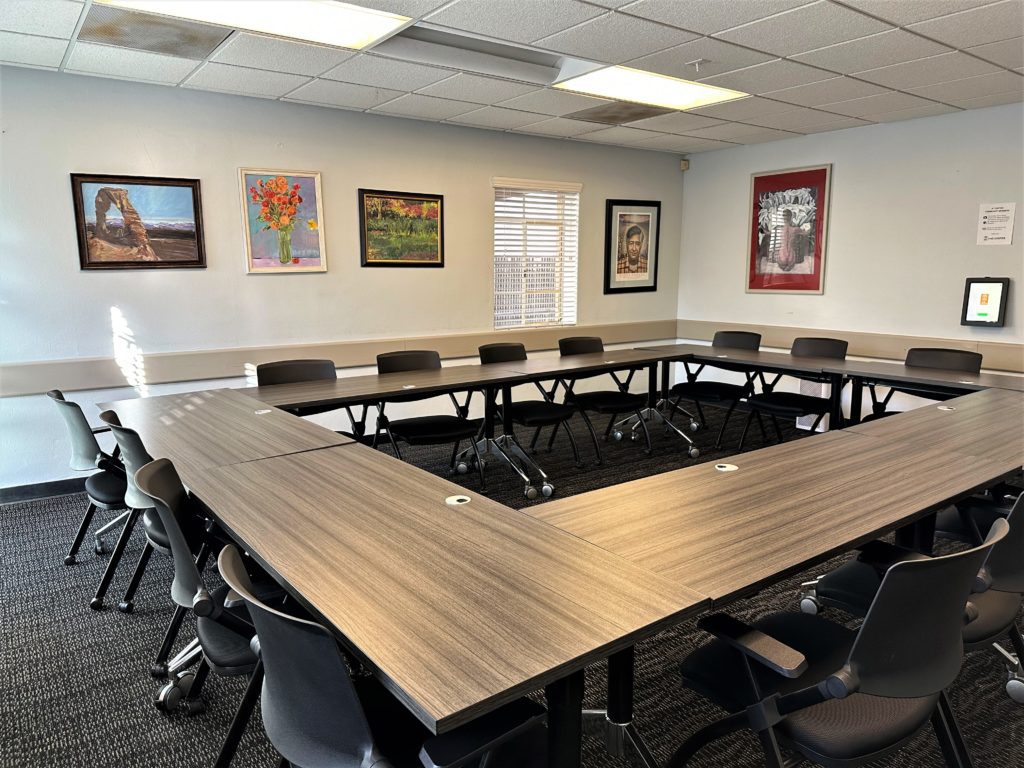 DAVID BIRNBAUM GROUP ROOM 3
Floor Level: Main Ground Floor
Capacity/Dimensions: 12 rolling chairs/6 tables, approx. 4 additional event chairs may be added without tabletop access
Room Dimensions: 14' x 22' 8"
Minimum Rental: One hour
Special Amenities

Equipped with Hearing Loop
Wi-Fi Connection
2 Large Windows
Wi-Fi Connection
Audio and Visual equipment with additional fee
RENTAL FEES
Deposit: $30
Small Non-Profit Organization: Free one-time use; $20/hour for recurring events
Partner Organization: $30/hour
Mid-Size Non-Profit Organization: $50/hour
Large Non-Profit Organization: $75/hour
For-Profit/ Public Rate: $100/hour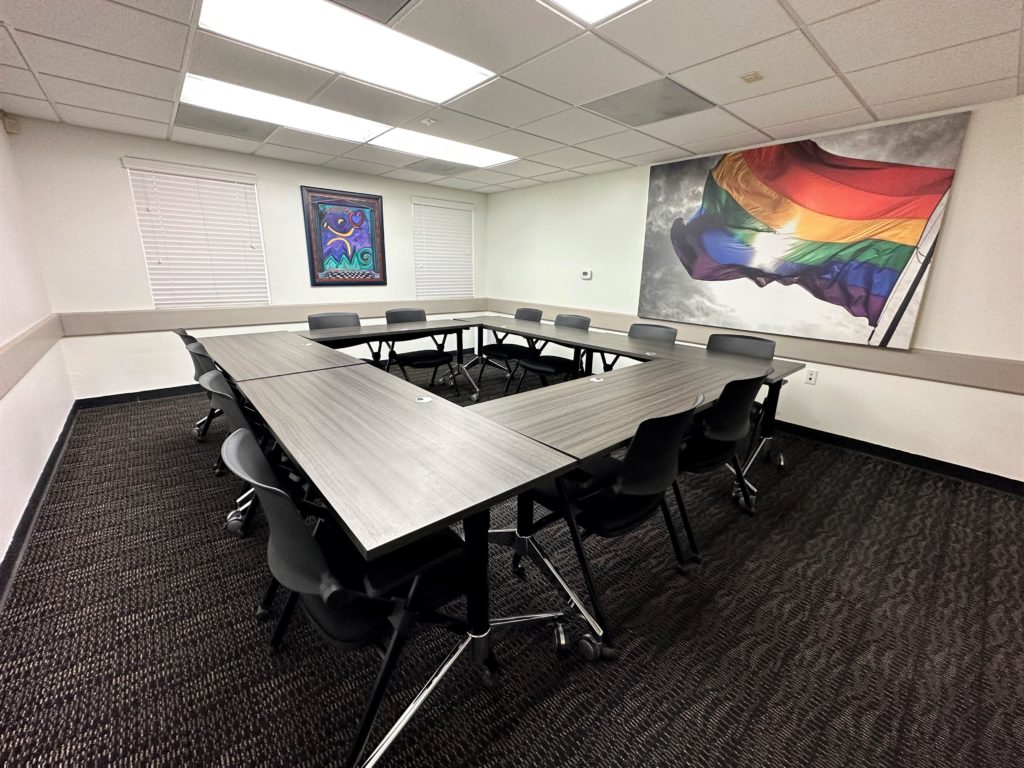 Floor Level: Main Ground Floor
Capacity/Dimensions: Up to 250 people seated or 400 people standing
Room Dimensions: Wall-to-wall 78' x 48', usable space 69' x 43', perimeter benches 26", deep stage 12' 5" at deepest point x 27' wide
Minimum Rental: Two hours, M-F for events ending by 7:00 p.m. Not available Saturday & Sundays.
Special Amenities

Equipped with Hearing Loop
Wi-Fi Connection
Bluetooth Audio Capability
1 Handheld Microphone included in rental fee
Audio and Visual Equipment & Technology with additional fee
Kitchen with additional fee
RENTAL FEES
Deposit: $200
Small Non-Profit Organization: Free one-time use; $100/hour for recurring events
Partner Organization: $200/hour
Mid-Size Non-Profit Organization: $250/hour
Large Non-Profit Organization: $375/hour
For-Profit/ Public Rate: $500/hour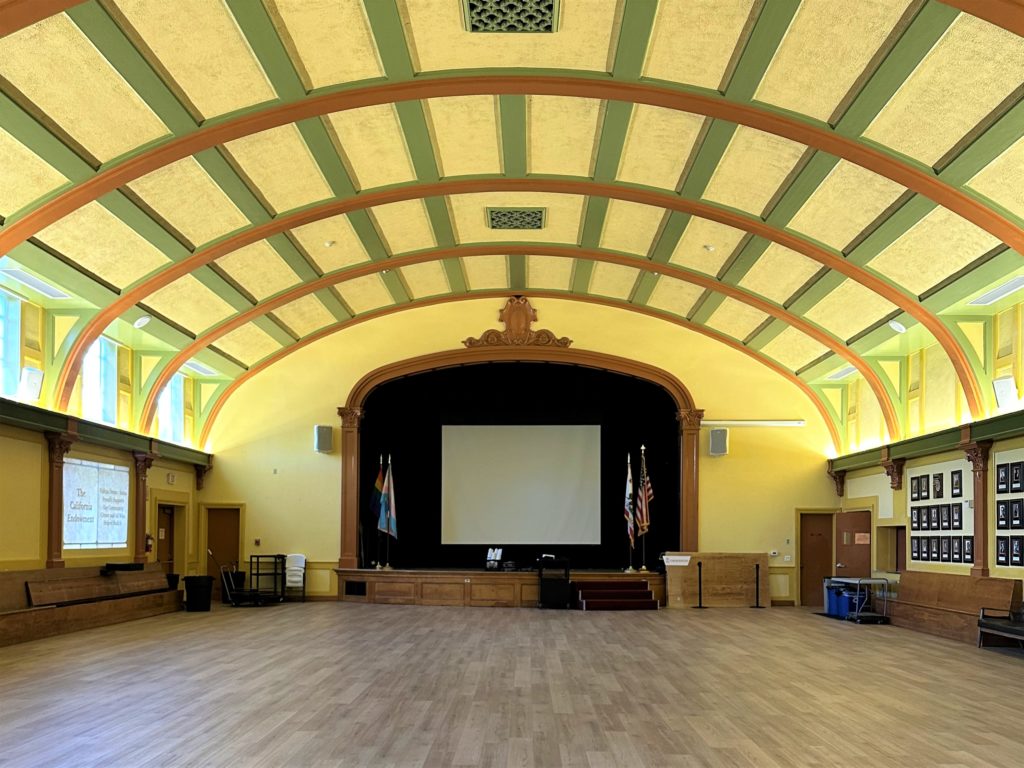 Sign Up For
The Center's E-News