The first program of its kind in the nation, The Center's Nicole Murray-Ramirez Latin@x Services has provided a safe, welcoming, culturally and linguistically appropriate space for a range of services since 2004 for the Latino/a/x LGBTQ community. Latin@x Services allows community members to accept and embrace all aspects of their lives including their culture, traditions, language, spirituality, and sexual and gender identities.
Please reach out to latinos@thecentersd.org or 619.855.2639 for specific information, or see our offerings and calendar of events below.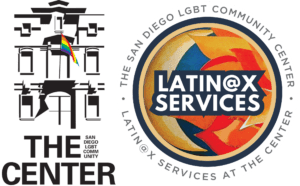 BIENVENID@XS A LATIN@X SERVICES EN THE CENTER
We are excited to connect with you! To stay up-to-date on our programs and services and what's going on at Your Center, sign up to receive our weekly E-News and connect with us on social media.
¡Conéctate con nosotr@xs! Para saber sobre nuestros programas y servicios y lo que sucede en The Center, regístrate para recibir nuestras noticias electrónicas semanales y conéctate con nosotr@xs en las redes sociales.
Grupos de Latin@x Services at The Center
Latin@x Services at The Center
Programs and Events
Additional Offerings at The Center
Check out the resources available for our communities:
Sign Up For
The Center's E-News