MPOX (monkeypox) Resources
IT'S GOOD TO BE EXTRA
STAY PROTECTED AGAINST MPOX

It's good to be extra about your sexual health and wellness.
Protect Yourself
Protect Your Partners
Protect Your Community
Scroll through this page for MPOX resources, vaccine information, and extra preventative steps to take to avoid MPOX.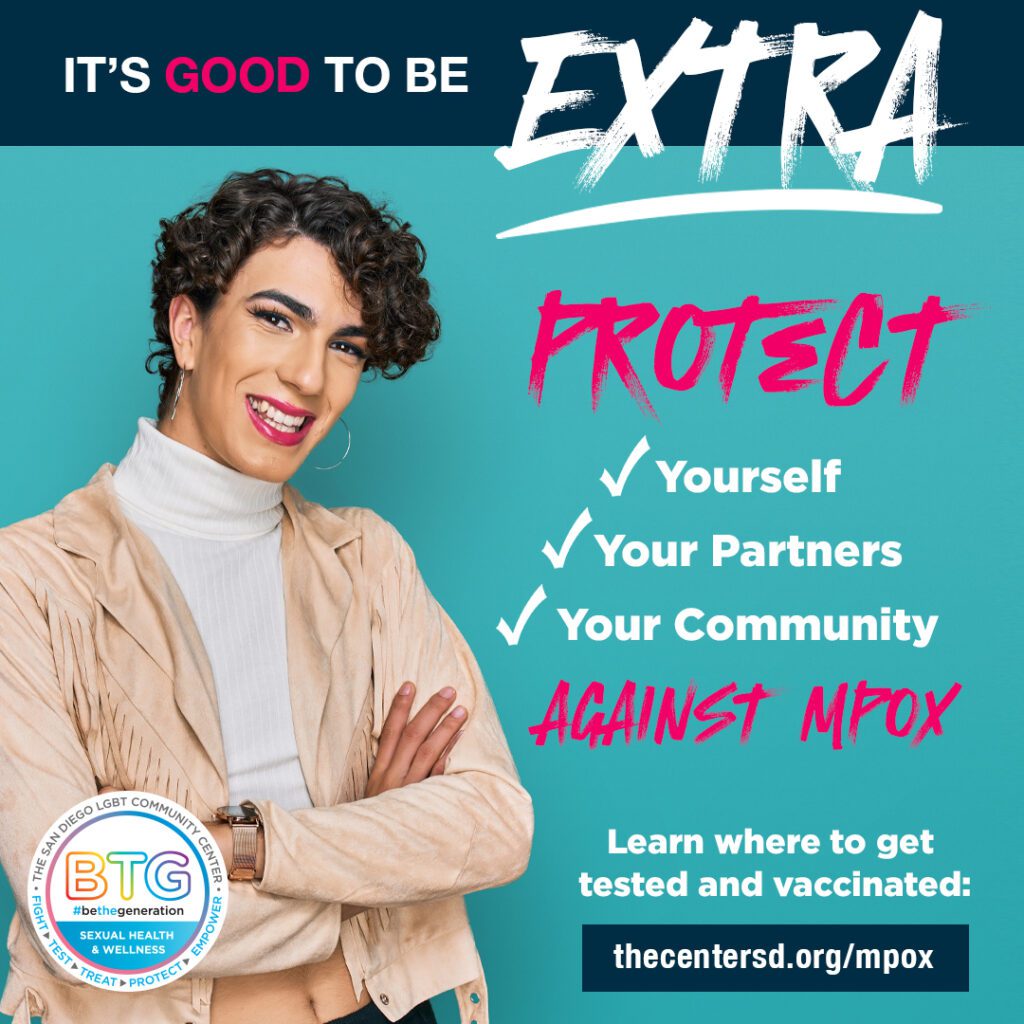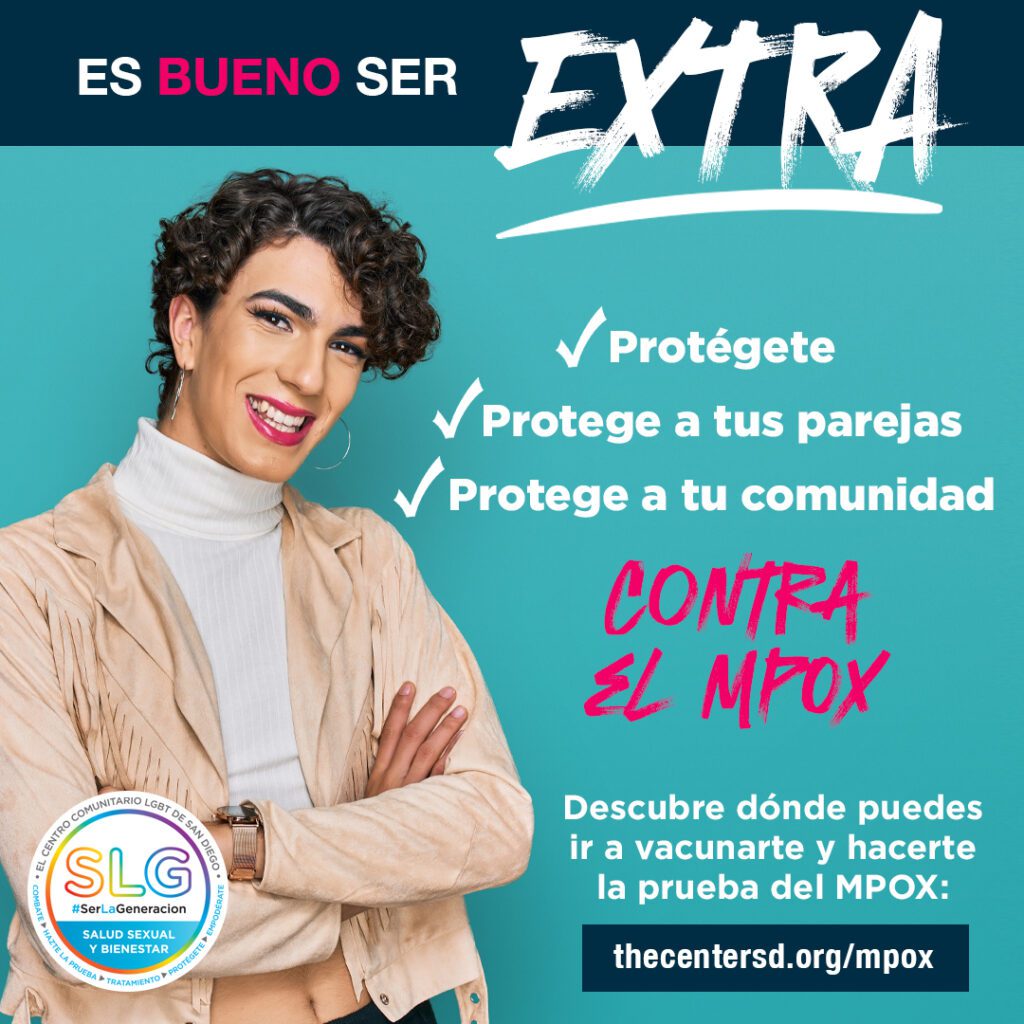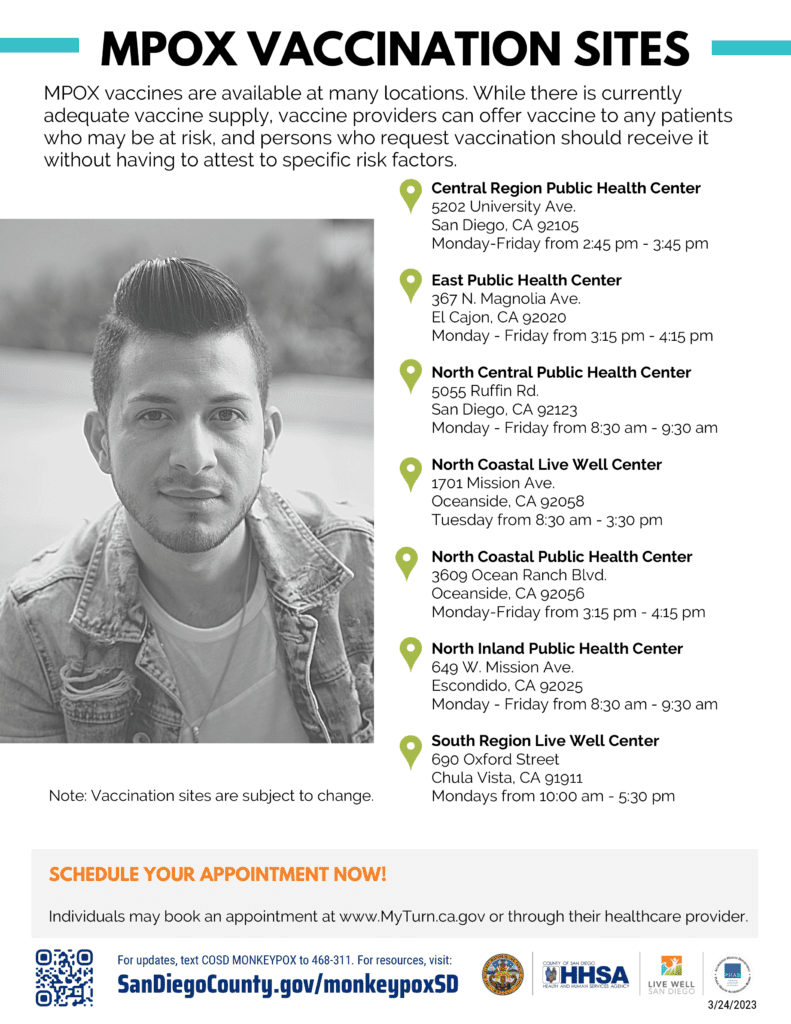 Get your MPOX vaccine from a provider near you. Contact your healthcare provider or visit  MyTurn.ca.gov to schedule an appointment for your no-cost vaccine. Click here for a list of County coordinated vaccination sites. 
Obtén tu vacuna contra MPOX de un proveedor cerca de usted. Comunícate con tu proveedor de atención médica o visita  MyTurn.ca.gov para programar una cita para tu vacuna sin costo. Obtén una lista de los sitios de vacunación coordinados por el condado.
Central Region Public Health Center – 5202 University Ave. San Diego, CA 92105 Monday-Friday from 2:45 pm – 3:45 pm
East Public Health Center – 367 N. Magnolia Ave. El Cajon, CA 92020 Monday – Friday from 3:15 pm – 4:15 pm 
North Central Public Health Center – 5055 Ruffin Rd. San Diego, CA 92123 Monday – Friday from 8:30 am – 9:30 am 
North Coastal Live Well Center – 1701 Mission Ave. Oceanside, CA 92058 Tuesday from 8:30 am – 3:30 pm 
North Coastal Public Health Center – 3609 Ocean Ranch Blvd. Oceanside, CA 92056 Monday-Friday from 3:15 pm – 4:15 pm 
North Inland Public Health Center – 649 W. Mission Ave. Escondido, CA 92025 Monday – Friday from 8:30 am – 9:30 am 
South Region Live Well Center – 690 Oxford Street Chula Vista, CA 91911 Mondays from 10:00 am – 5:30 pm
MPOX Information and resources
We know that many in our community are asking about MPOX (monkeypox). As a trusted community messenger, The Center is here to help connect you to resources and information about MPOX. Below are some helpful FAQs that we have compiled from local, state, and federal health agencies. We will continue to update this page with information from the County of San Diego, California Department of Health and the CDC.
The County has launched a MPOX text message alert system which allows San Diego County residents to receive real-time information about MPOX via text. To sign up, text COSD MONKEYPOX to 468-311.
The CDC has released Interim Guidelines for Prevention and Treatment of MPOX in Persons with HIV Infection.
If your doctor or if any provider is refusing to treat you for MPOX, please send details via email to Nick Macchione at phs_lgbtqhealth.hhsa@sdcounty.ca.gov.
July 2023 Update: MPOX eligibility has expanded in San Diego County! MPOX vaccine is now available to anyone who may be at risk.
The California Department of Public Health (CDPH) recommends that those who may be at risk for, or seek additional protection from MPOX infection, be vaccinated against MPOX. While there is currently adequate vaccine supply, there are no longer eligibility criteria, and vaccine providers can offer vaccine to any patients who MAY be at risk, and persons who request vaccination should receive it without having to attest to specific risk factors. While specific eligibility criteria have been removed, prioritizing the education and vaccination of populations at highest risk is encouraged to decrease infections, serious illness, and prevent fatalities.
Vaccination efforts should be prioritized for:
Anyone living with human immunodeficiency virus (HIV). It is recommended that additional efforts be made to reach those with a CD4 count <350/mm3, an unsuppressed HIV viral load, or an opportunistic infection, due to increased risk for complications of MPX
Any man or trans person who has sex with men or trans persons
People who use or are eligible for HIV PrEP
Sex workers
Sexual partners of the above groups
People who have had direct skin-to-skin contact with one or more people AND who know others in their community that have had MPX infection
People who have been diagnosed with a bacterial sexually transmitted disease (e.g., chlamydia, gonorrhea, syphilis) in the past 3 months
People who anticipate experiencing the above risks
On August 9, the FDA issued an emergency use authorization for the MPOX vaccine JYNNEOS, to allow health care providers to use the vaccine by intradermal injection, increasing the total number of doses available by up to five-fold. For individuals 18 years of age and older determined to be at high risk of MPOX, this allows for 1/5 of the JYNNEOS dose to be administered between the layers of the skin. 1/5 doses have started at some community clinics as of August 15, 2022. HHSA feels confident that this is an effective method based on available data.
Sabemos que muchos en nuestra comunidad están preguntando acerca de MPOX (viruela de mono). Como mensajero comunitario confiable, The Center está aquí para ayudar a la comunidad a conectarse con recursos e información sobre MPOX. A continuación se encuentran algunas preguntas frecuentes útiles que hemos compilado de las agencias de salud locales, estatales y federales. Compartiremos información del Condado de San Diego, Departamento de Salud de California, y del CDC.
El condado ha lanzado un sistema de mensajes de texto que permite a los residentes del condado de San Diego recibir información en tiempo real sobre MPOX a traves de mensajes de texto. Para inscribirse, envie un mensaje de texto COSD MONKEYPOX al 468-311.
El CDC ha publicado Guidelines for Prevention and Treatment of MPOX in Persons with HIV Infection para personas con VIH.
Si su medico o cualquier proveedor se niega a tratarlo por MPOX, envie un email a Nick Macchione phs_lgbtqhealth.hhsa@sdcounty.ca.gov.
Información actualizada julio, 2023: Eligibilidad se ha ampliado para la vacuna contra MPOX en el condado de San Diego! La vacuna MPOX ahora está disponible para cualquier persona que pueda estar en riesgo:
El Departamento de Salud Pública de California (CDPH) recomienda que aquellos que puedan estar en riesgo o busquen protección adicional contra la infección de MPOX, se vacunen contra MPOX. Actualmente existe un suministro adecuado de vacunas, sin criterios de elegibilidad, por lo cual los proveedores de vacunas pueden ofrecer vacunas a cualquier paciente que PUEDE estar en riesgo, y las personas que soliciten la vacunación deben recibirla sin comprobar factores de riesgo específicos. Se alienta a priorizar la educación y la vacunación de las poblaciones con mayor riesgo para disminuir las infecciones, enfermedades graves y prevenir muertes.
Los esfuerzos de vacunación deben priorizarse para:
Cualquier persona que viva con el virus de VIH. Se recomienda realizar esfuerzos adicionales para llegar a aquellos con un recuento de CD4 <350/mm3, una carga viral del VIH no suprimida, o una infección oportunista, debido al mayor riesgo de complicaciones de la MPOX.
Cualquier hombre o persona trans que tenga relaciones sexuales con hombres o personas trans
Personas que usan o son elegibles para la PrEP contra el VIH
Trabajadoras sexuales
Parejas sexuales de los grupos anteriores
Personas que han tenido contacto directo de piel con piel con una o más personas Y que conocen a otras personas en su comunidad que han tenido infección por MPOX
Personas a las que se les ha diagnosticado una enfermedad bacteriana de transmisión sexual (e.g. clamidia, gonorrea, sífilis) en los últimos 3 meses
Personas que anticipan experimentar los riesgos anteriores
El 9 de agosto, la FDA emitio una autorizacion de uso de emergencia para la vacuna MPOX JYNNEOS, para permitir que los proveedores de atencion medica usen la vacuna mediante inyeccion intradermica, aumentando hasta cinco veces la cantidad total de dosis disponibles. Para personas 18 o mas que se determine que tienen un alto riesgo de MPOX, esto permite administrar 1/5 de la dosis de JYNNEOS entre las capas de la piel. 1/5 dosis comenzaron en algunas clnicias comunitarias a partir del 15 de agosto de 2022. HHSA confia en que este es un metodo efectiveo segun los datos disponibles.
MPOX FAQs / Preguntas frequentes sobre MPOX
Sign Up For The Center's E-News