Annual Report and Financial Statements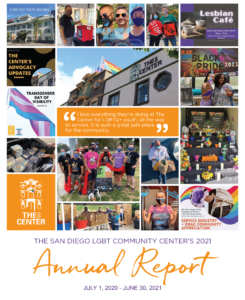 "At The Center, we have seen the impact of the pandemic as the needs of our community have grown exponentially. We are here for you, as we have been for almost 50 years, and we look forward to the next 50 years of innovation, service, and community." – Cara Dessert, CEO
The past year has been a year like no other, and The Center has been here for our community every step of the way. We are excited and proud to share our Annual Report for our 2021 fiscal year.
This Annual Report, spanning July 1, 2020 – June 30, 2021, is a beautiful overview of defining moments and the real impact of our services during the pandemic – including new programs, added Support and Discussion Groups, our expanded Housing Services continuum, financial information, updates on Seniors, Youth, and our Black and Latino/a/x communities…along with some pretty impressive service visit statistics, over 80,000! Also, our Annual Report provides an update on The Center's Three-Year Strategic Plan and renovation details that have happened at your Community Center.

We hope you enjoy seeing the impact that you helped The Center make this past year. We couldn't do what we do without your support. If you'd like to donate to support the varied and many programs and services, consider becoming a Center Supporter! Thank you for being part of our community.