Substance use disorder & harm reduction RESOURCES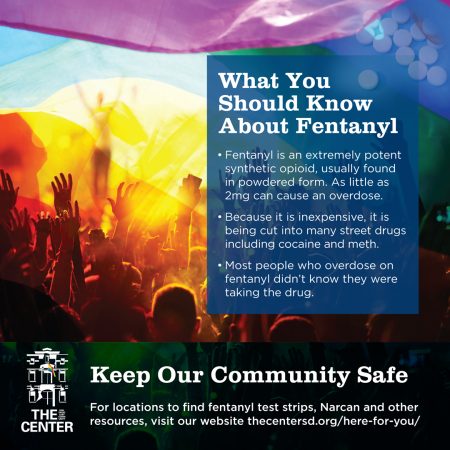 Keeping Our Community Safe!
Please help keep our LGBTQ community safe by learning about fentanyl. Fentanyl is an extremely potent synthetic opiod, usually found in powdered form. As little as 2mg can cause an overdose. Overdose can be avoided by having fentynal test strips with you to help detect the presence of fentanyl in other drugs including cocaine, meth, heroin and other opioids. Or, by having Narcan with you, which can help to prevent a fatal overdose.
To obtain Narcan or fentanyl test strips please check the locations below. All locations are confidential and no identifying information is collected, retained or shared with any other agency including Law Enforcement. These sites are not affiliated with any Law Enforcement Agency and no Law Enforcement Officers are present.

WHERE TO FIND NARCAN and FENTANYL TEST STRIPS
Harm Reduction Coalition On Point offers both Narcan and Fentanyl test strips at a variety of mobile locations. They can also arrange for mobile delivery.
Website: hrcsd.org 
Address: 1733 Euclid Ave. San Diego, CA 92105
Phone: 888.267.2260
StepIn provides both Narcan and fentanyl test strips at the Stepping Out outpatient clinic.
Website: stepinsd.com
Address: 3928 Illinois St., San Diego, CA 92104
Phone: 619.763.1140
The Safe Point Project through Family Health Centers of San Diego provides fentanyl test strips at its syringe service sites on the following days and locations:
Downtown: 100 16th Street San Diego 92101 (across from the MTS building) Tuesdays and Thursdays between 6 – 9 pm
North Park: 3795 31st Street (across from the North Park Library). Fridays between 10 am – 1 pm
We are here for you!
Substance use is a serious issue in the LGBTQ community. Too many people in our community are disproportionately affected by substance use disorder.
The San Diego LGBT Community Center has built strong collaborative partnerships with top community LGBTQ+ affirming providers and organizations, including Family Health Centers of San Diego, Live & Let Live Alano Club, UCSD Owen Clinic, San Diego Harm Reduction Coalition, and Stepping Stone of San Diego, providing our clients with a seamless link to immediate substance use disorder treatment and prevention support services.
If you are seeking help, know that you are not alone. Explore this page to connect with LGBTQ-affirming programs and resources for recovery and support.
If you are in distress or crisis please reach out to San Diego County Access & Crisis Line at 888.724.7240.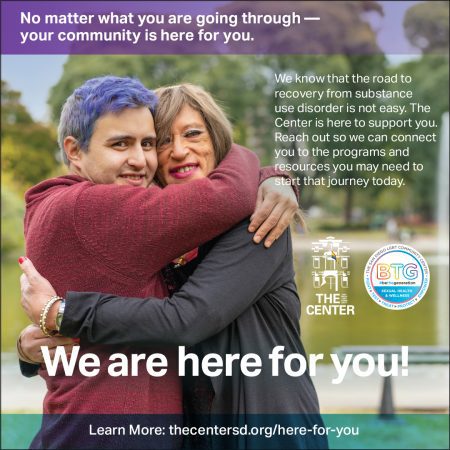 additional services at the center
Sign Up For
The Center's E-News