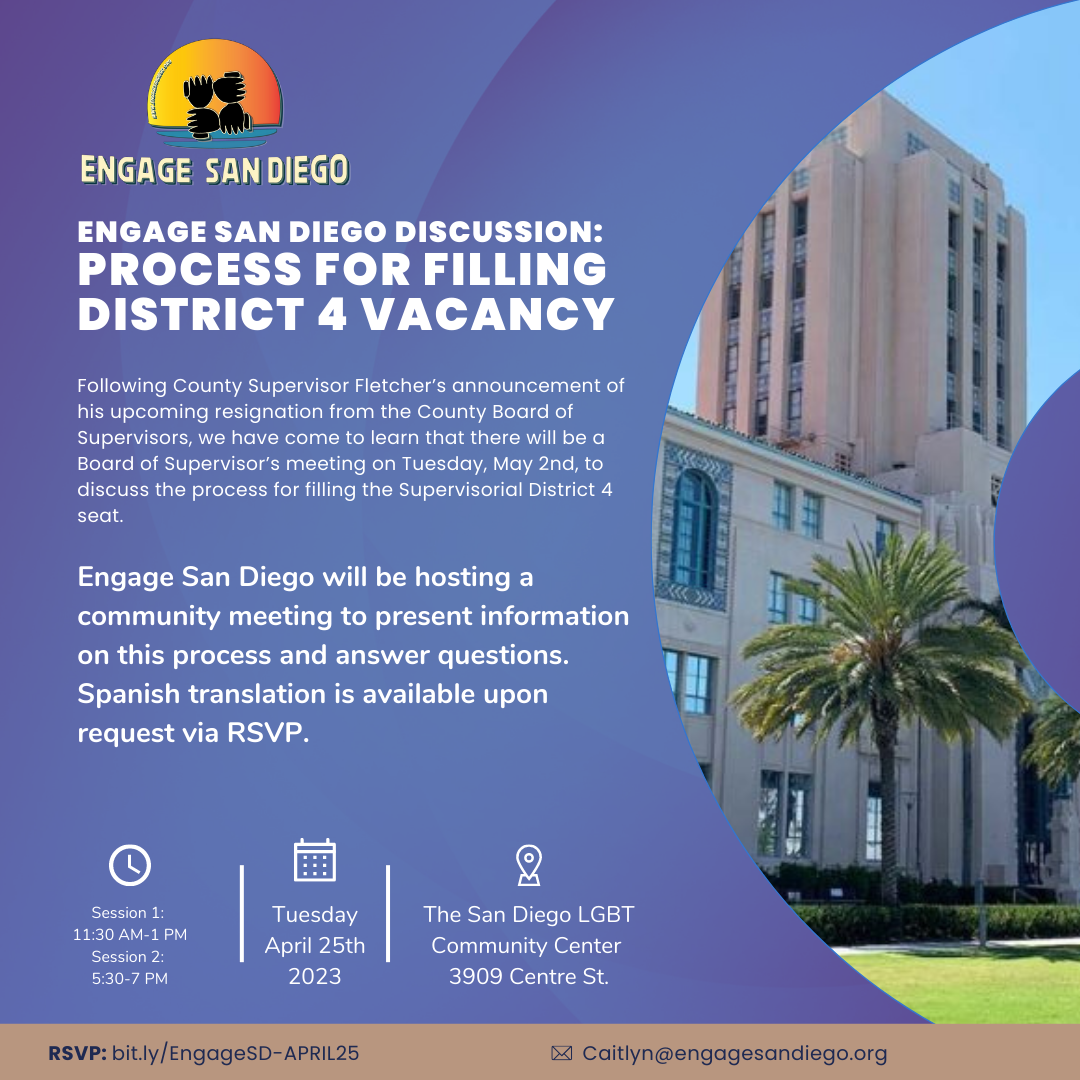 Engage San Diego – Process for Filling District 4 Vacancy – Session 2
Engage San Diego – Process for Filling District 4 Vacancy – Session 2
Following County Supervisor Fletcher's announcement of his upcoming resignation from the County Board of Supervisors, we have come to learn that there will be a Board of Supervisor's meeting on Tuesday, May 2nd, to discuss the process for filling the Supervisorial District 4 seat.
Engage San Diego will be hosting a community meeting to present information on this process and answer questions. Spanish translation is available upon request via RSVP.
Session 1: 11:30 a. m. – 1:00 p. m.
Session 2: 5:30 PM – 7:00 PM
RSVP: https://bit.ly/EngageSD-APRIL25
Contact: Caitlyn@engagesandiego.org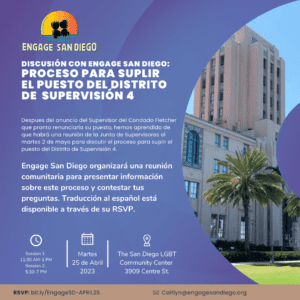 Discusión con Engage San Diego: Proceso para suplir el puesto del distrito de Supervisión 4
Despues del anuncio del Supervisor del Condado Fletcher que pronto renunciaría su puesto, hemos aprendido de que habrá una reunión de la Junta de Supervisores el martes 2 de mayo para discutir el proceso para suplir el puesto del Distrito de Supervisión 4.
Engage San Diego organizará una reunión comunitaria para presentar información sobre este proceso y contestar tus preguntas. Traducción al español está disponible a través de su RSVP.
Sesión 1: 11:30 AM – 1:00 PM
Sesión 2: 5:30 PM – 7:00 PM
RSVP: https://bit.ly/EngageSD-APRIL25