Transgender Day of Remembrance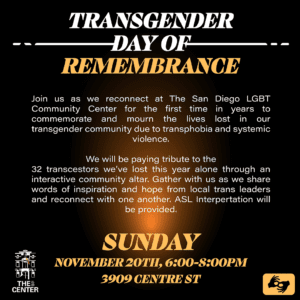 Join us as we reconnect at The San Diego LGBT Community Center for the first time in years to commemorate and mourn the lives lost in our transgender community due to transphobia and systemic violence.
We will be paying tribute to the 32 transcestors we've lost this year alone through an interactive community altar. Gather with us as we share words of inspiration and hope from local trans leaders.
When: Sunday, November 20th, 2022 AT 6:00 PM
Where: 3909 Centre St.
Please note that COVID protocols are in place at The Center. Proof of vaccination will be required for entry and guests will be required to wear masks.