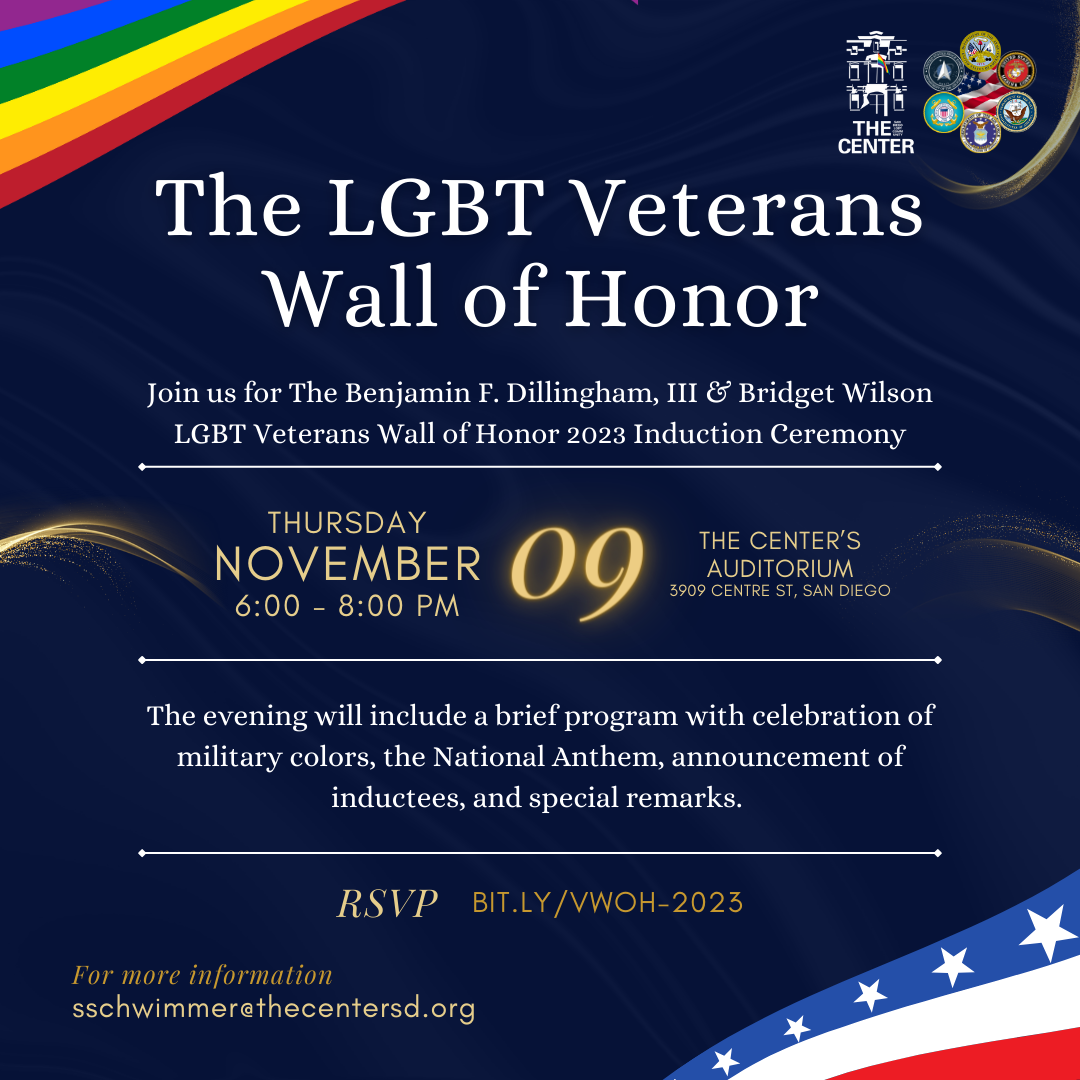 LGBT Veterans Wall of Honor 2023
Join us for The Benjamin F. Dillingham, III & Bridget Wilson LGBT Veterans Wall of Honor 2023 Induction Ceremony on Thursday, Nov. 9 from 6-8 pm at The Center (3909 Centre St San Diego, 92103). The evening will include a brief program with a celebration of military colors, the National Anthem, announcement of inductees, and special remarks.
This LGBT Veterans Wall of Honor recognizes LGBTQ veterans with ties to San Diego who served under anti-LGBTQ policies, preventing their ability to serve, and serve safely and openly, as well as those who have served after the ending of those policies. These veterans have taken the oath to serve our country and have done so honorably, and with distinction, acting as role models in advancing equality. The LGBT Veterans Wall commemorates these veterans' lives in hopes that their courage, bravery and sacrifices will continue to inspire future generations.
2023 Inductees:
Daniel Kenneth Baggett, USN (he/him)
Moses G Beeman II, USMC (he/him)
Roger C. Cornell, MD, USAF (he/him)
Jimm Crouch, USN (he/him)
Michael A. Dwyer, USA (he/him)
Melissa Johnson, USAF (she/her)
Carl Francis Moccafiche, USA (he/him)
Turquoise Teagle, USN (they/them)
Romie Lee Wilford, USN (he/they)
Questions? Please contact Samantha Schwimmer (she/her) sschwimmer@thecentersd.org.