hMPXV (monkeypox) Resources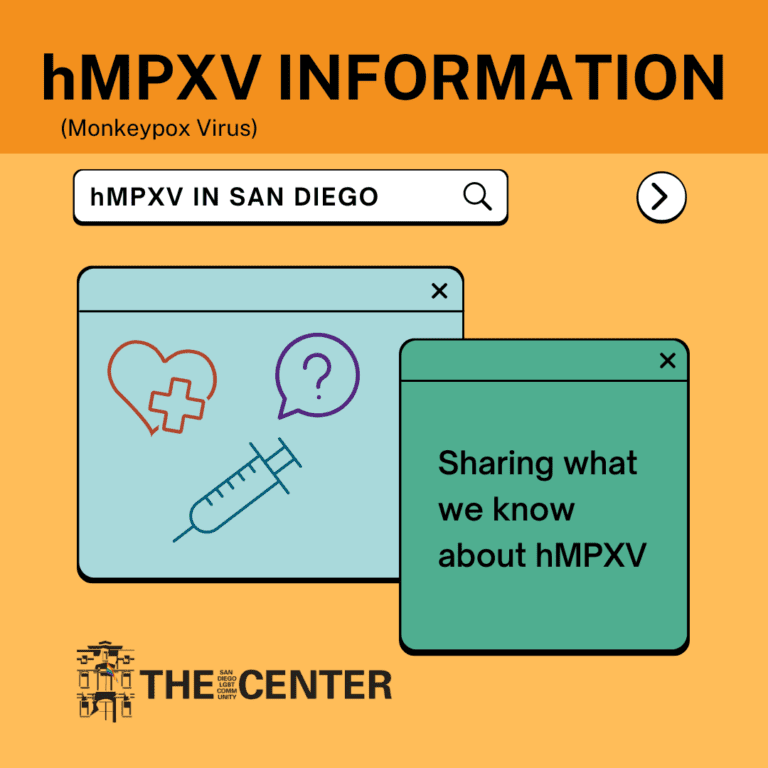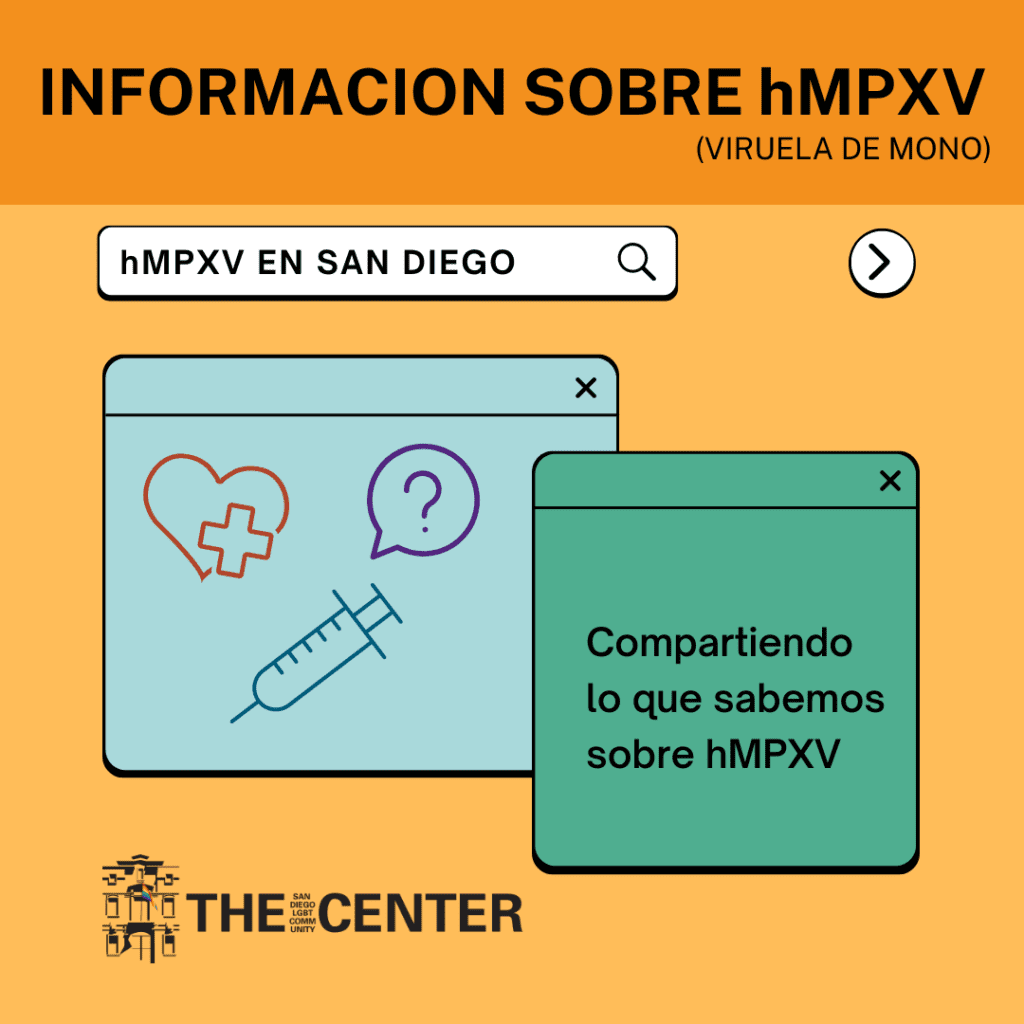 We know that many in our community are asking about hMPXV (monkeypox). As a trusted community messenger, The Center is here to help connect you to resources and information about hMPXV. Below are some helpful FAQs that we have compiled from local, state, and federal health agencies, as well as information on the County's next vaccination event this week. We will use the section as well as The Center's Facebook and Instagram to share the latest updates.
We will also continue to update this page with information from the County of San Diego, California Department of Health and the CDC.
The County has launched a hMPXV text message alert system which allows San Diego County residents to receive real-time information about hMPXV via text. To sign up, text COSD MONKEYPOX to 468-311.
The County has declared a state of emergency, following California's state of emergency declaration. This allows Emergency Medical Services staff to administer hMPXV vaccines and will allow the County to gain better access to vaccines and funding resources when they become available.
The CDC has released Interim Guidelines for Prevention and Treatment of hMPXV in Persons with HIV Infection.
Updated August 15, 2022:
If your doctor or if any provider is refusing to treat you for hMPXV, please send their information and details to Nick Macchione at phs_lgbtqhealth.hhsa@sdcounty.ca.gov.
1,550 hMPXV vaccines were sent last week to local healthcare systems, health centers, and clinics in San Diego. HHSA will instruct these clinics to distribute the vaccines to everyone who qualifies for one.
More info: https://www.countynewscenter.com/monkeypox-vaccine-where-to-get-it/
The County is planning more mass vaccination events, but details are not confirmed at this time.
Intradermal Dosing (1/5 Dose)
On August 9, the FDA issued an emergency use authorization for the hMPXV vaccine JYNNEOS, to allow health care providers to use the vaccine by intradermal injection, increasing the total number of doses available by up to five-fold. For individuals 18 years of age and older determined to be at high risk of hMPXV, this allows for 1/5 of the JYNNEOS dose to be administered between the layers of the skin. 1/5 doses have started at some community clinics as of August 15, 2022. HHSA feels confident that this is an effective method based on available data.
hmpxv (monkeypox) resources
Please visit this page regularly for the latest updates regarding hMPXV (monkeypox).
RECURSOS SOBRE hMPXV (VIRUELA DE MONO)
Sabemos que muchos en nuestra comunidad están preguntando acerca de la hMPXV (viruela de mono). Como mensajero comunitario confiable, The Center está aquí para ayudar a la comunidad a conectarse con recursos e información sobre hMPXV. A continuación se encuentran algunas preguntas frecuentes útiles que hemos compilado de las agencias de salud locales, estatales y federales, así como información sobre el próximo evento de vacunación del condado esta semana. Usaremos esta sección, así como el Instagram y Facebook de The Center para compartir la información más reciente.
Compartiremos información cada semana del Condado de San Diego, Departamento de Salud de California, y del CDC y proporcionaremos enlaces a los próximos eventos de vacunación.

El condado ha lanzado un sistema de mensajes de texto que permite a los residentes del condado de San Diego recibir información en tiempo real sobre hMPXV a traves de mensajes de texto. Para inscribirse, envie un mensaje de texto COSD MONKEYPOX al 468-311.
El Condado de San Diego ha declarado estado de emergencia después de la declaración de estado de emergencia de California. Esto permite que el personal de los Servicios Medicos de Emergencia administre las vacunas hMPXV y permitirá que el Condado obtenga un mejor acceso a las vacunas y los recurosos de financiación cuando estén disponibles.
El CDC ha publicado Guidelines for Prevention and Treatment of hMPXV in Persons with HIV Infection para personas con VIH.
Actualizado 15 de agosto, 2022:
Si su medico o cualquier proveedor se niega a tratarlo por hMPXV, envie su informacion y detalles a Nick Macchione a phs_lgbtqhealth.hhsa@sdcounty.ca.gov.
La semana pasada se enviaron 1,550 vacunas hMPXV a los sistemas de salud locales, centros de salud y clínicas en San Diego.
HHSA dara instrucciones a estas clinicas para que distribuyan las vacunas a todos los que califican.
Mas informacion: https://www.countynewscenter.com/monkeypox-vaccine-where-to-get-it/
Si un paciente tiene problemas para accedar a una vacuna en una de estas clinicas, comuniquese con Nick Macchione en phs_lgbtqhealth.hhsa@sdcounty.ca.gov.
El Condado esta planeando mas eventas de vacunacion per los detalles no estan confirmados en este momento.
Dosis intradermica (1/5 dosis)
El 9 de agosto, la FDA emitio una autorizacion de uso de emergencia para la vacuna hMPXV JYNNEOS, para permitir que los proveedores de atencion medica usen la vacuna mediante inyeccion intradermica, aumentando hasta cinco veces la cantidad total de dosis disponibles. Para personas 18 o mas que se determine que tienen un alto riesgo de hMPXV, esto permite administrar 1/5 de la dosis de JYNNEOS entre las capas de la piel. 1/5 dosis comenzaron en algunas clnicias comunitarias a partir del 15 de agost de 2022. HHSA confia en que este es un metodo efectiveo segun los datos disponibles.