Phase 3 Reopening at The Center
Welcome Back To Your Center!
Following closure due to the COVID-19 pandemic, we have embarked on a phased reopening at The Center! We hope to see you as we provide expanded in-person services to our community.
The Center is currently open Monday – Friday from 10am-7pm offering in-person and virtual services for support and discussion groups and in-person housing services at Sunburst Youth Housing, Golden Hall shelter, and LGBTQ Safe S.T.A.Y., as we have done since the start of the pandemic.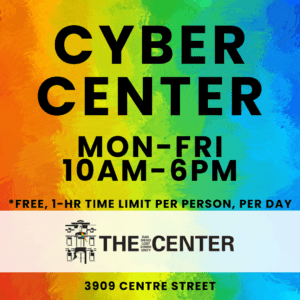 Beginning June 1, 2022 we have expanded in-person services that are provided weekly onsite at The Center's main building at 3909 Centre Street. We are now open Monday through Friday, from 10am to 7pm.
Masks will still be required indoors and clients will be required to be vaccinated. Flexibility for mask requirement will be allowed for special circumstances. For example, removing masks to allow for lip reading or due to respiratory difficulty.
Our Cyber Center is open!
The Center's Cyber Center has been relocated to the Welcome Lobby, and three computer stations are available to members of our community from 10am-6pm. There is a 1 hour time limit per person, per day. We offer free printing for important documents, like tax documents, resumes, and cover letters, etc. Other printing is available at 10 cents per page.
Expanded In-Person Services
In-Person Services offered at The Center's Main Building include:
Welcome Services

– Center staff will be available in our newly-renovated lobby to answer questions, provide referrals, process initial intakes, and help our community members navigate all the services (in person and online) that The Center offers.

Sexual Health and Wellness

– HIV testing, STI screening, and PrEP navigation will be available.

One-on-one meetings 

with case managers and program staff upon client request, with staff discretion. This will be handled on an individual basis, and staff will determine if an in-person meeting is needed.

Project Compassion

, our program that provides direct supportive services for those experiencing homelessness, will be available outdoors on the patio one day per week, on Thursdays from 10am-2pm.
On-Duty staff for referrals and resources will be available 10am-3pm, Monday through Friday.
Some of The Center's discussion groups will move to an on-site and/or hybrid model beginning 

June 1

. Please see discussion group facilitator for details. For our discussion groups, please visit our events calendar.
Hillcrest Youth Center and South Bay Youth Center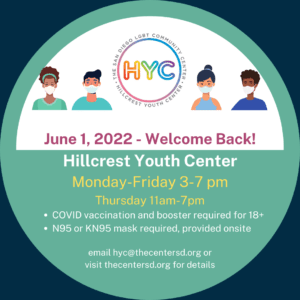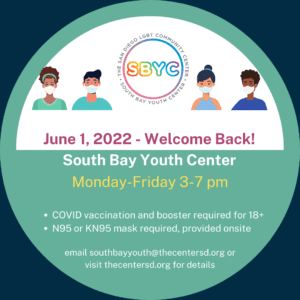 In-Person Youth Center Services:
Hillcrest Youth Center open Monday through Friday from 3-7pm; open Thursdays 11am-7pm for tours, patient/family intakes, and 1:1 services. Vaccine and booster required for those 18+, contact HYC@thecentersd.org for details.

South Bay Youth Center open Monday through Friday from 3-7pm; open Mondays 3-7pm for tours, parent/family intakes, and 1:1 services. Vaccine and booster required for 18+, contact SouthBayYouth@thecentersd.org for details. 

COVID-19 Safety Protocols: As this phase was developed with our community's safety and needs in mind, we will be implementing the following safety protocols for all staff, volunteers, and clients:
COVID-19 vaccine and booster are required for 18+. No clients will be turned away due to vaccination status, though we will have to connect them to services outdoors or virtually.
KN95 or N95 masks are required and will be provided at The Center for free.
COVID-19 screening questions and temperature checks are required.
Sign Up For
The Center's E-News