Young Professionals Council Academy Class of 2023
Note: These bios remain static from the time of the participant's graduation from YPC Academy. Many graduates have moved on to new careers, board service, and other activities since the time of this publication.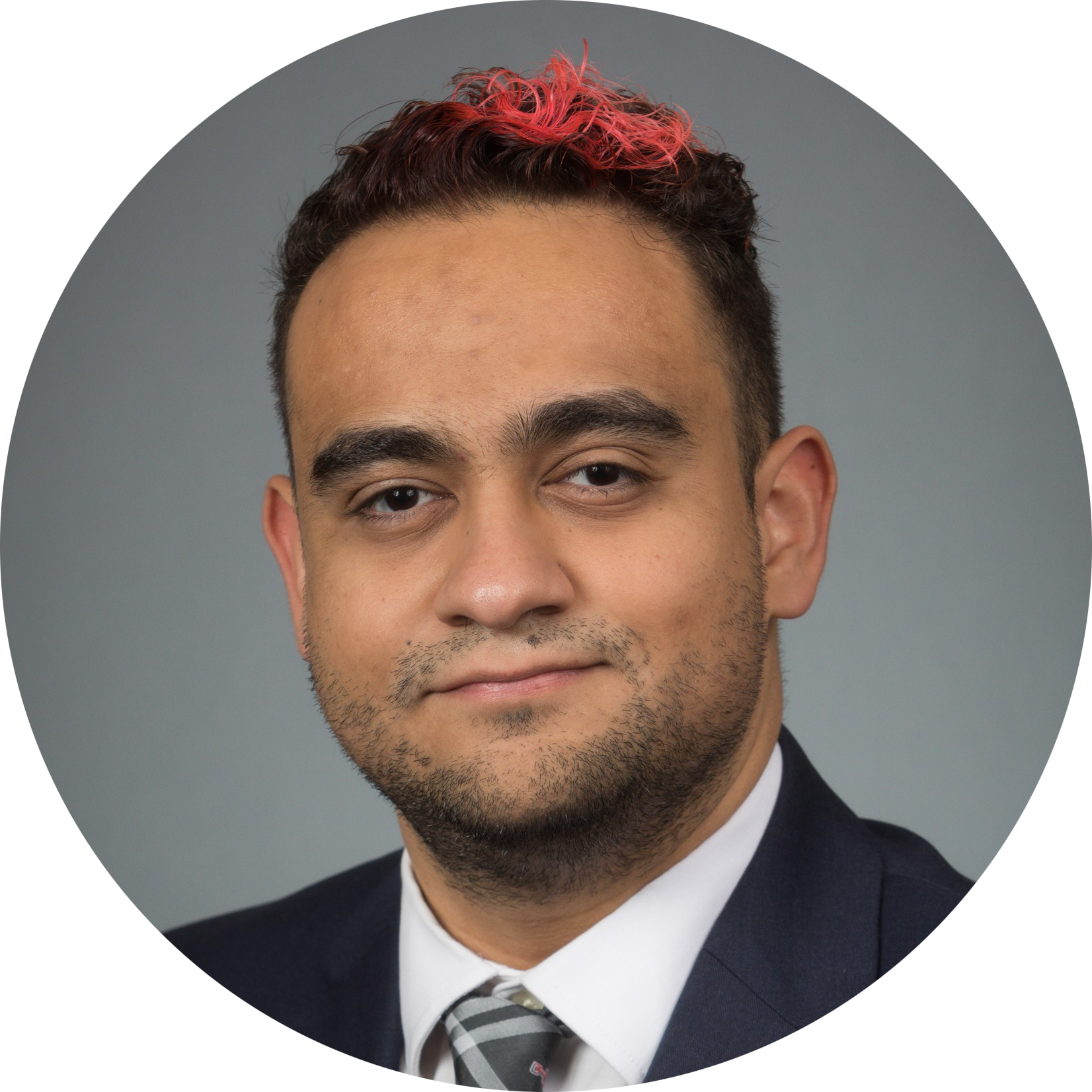 Jesús Ayala-Candia
He/him/el
Jesús Ayala-Candia (He/Him/El) is a Mexican-American gay man, First Generation collegiate, and a native of El Paso, Texas. He is a graduate of Sam Houston State University and Texas Tech University, where he obtained a B.Sc. in Criminology and an M.A. in Sociology respectively, and currently is a first-year doctoral student and lecturer in the Department of Sociology at the University of California San Diego.
Raised in conservative Texas, he has experienced firsthand the demands of constantly concealing his identity in different personal and professional settings. However, he fervently believes he holds a civic responsibility in being a catalyst for positive change and providing a queer and racial-ethnic representation for his students and peers across the academy. Further, as a borderland resident, he's encountered the human-rights injustices committed against undocumented immigrants and the vulnerability of queer migrants. As such, these instances undergird his areas of research on International Migration Systems & Border Enforcement, Law & Society, and Stratification to continually seek ways to serve his community through acts of public service, education, and civic engagement. An upcoming scholar and educator of color, Jesús plans to continue into the professoriate career fomenting an inclusive, diverse, and equitable scholarship and pedagogy that treats all with dignity and respect. The motto that he lives by is: "The measure of a Life is its Service."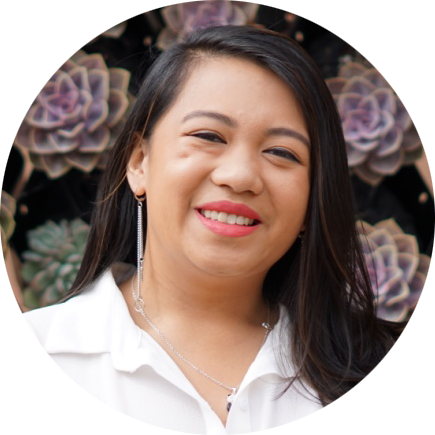 fran bautista (they/she) is a queer person of color, Filipin@-/Asian- American, and a child of immigrants from the San Fernando Valley, located on Tongva land in Los Angeles county. A first-generation college graduate andUC San Diego alumna ('21), fran currently serves as the Student Services Specialist for LGBTQIA+ Equity at MiraCosta College. At UC San Diego, fran studied Global Health and Critical Gender Studies with a double minor in Human Rights & Migration studies and Asian American & Pacific Islander studies – culminating their time with the creation of a digital archive of community interviews on Sapphic Asian identity development. They have worked to build community and coalitions with the Asian American and LGBTQIA+ communities through scholarship and opportunities conducted at UC San Diego – especially with APIMEDA Programs and Services – and MiraCosta College. Her work is committed to developing and maintaining spaces of belonging that uplift and encourage community building for intersectional identities as rooted and framed within accessibility, equity, social justice, and belonging. New to being involved with the San Diego community post-undergrad, fran has committed themselves to volunteering for amazing organizations committed to uplifting the LGBTQIA+ community such as the North County LGBTQ Resource Center, San Diego LGBT Community Center, San Diego Pride, and Transgender Health & Wellness Center.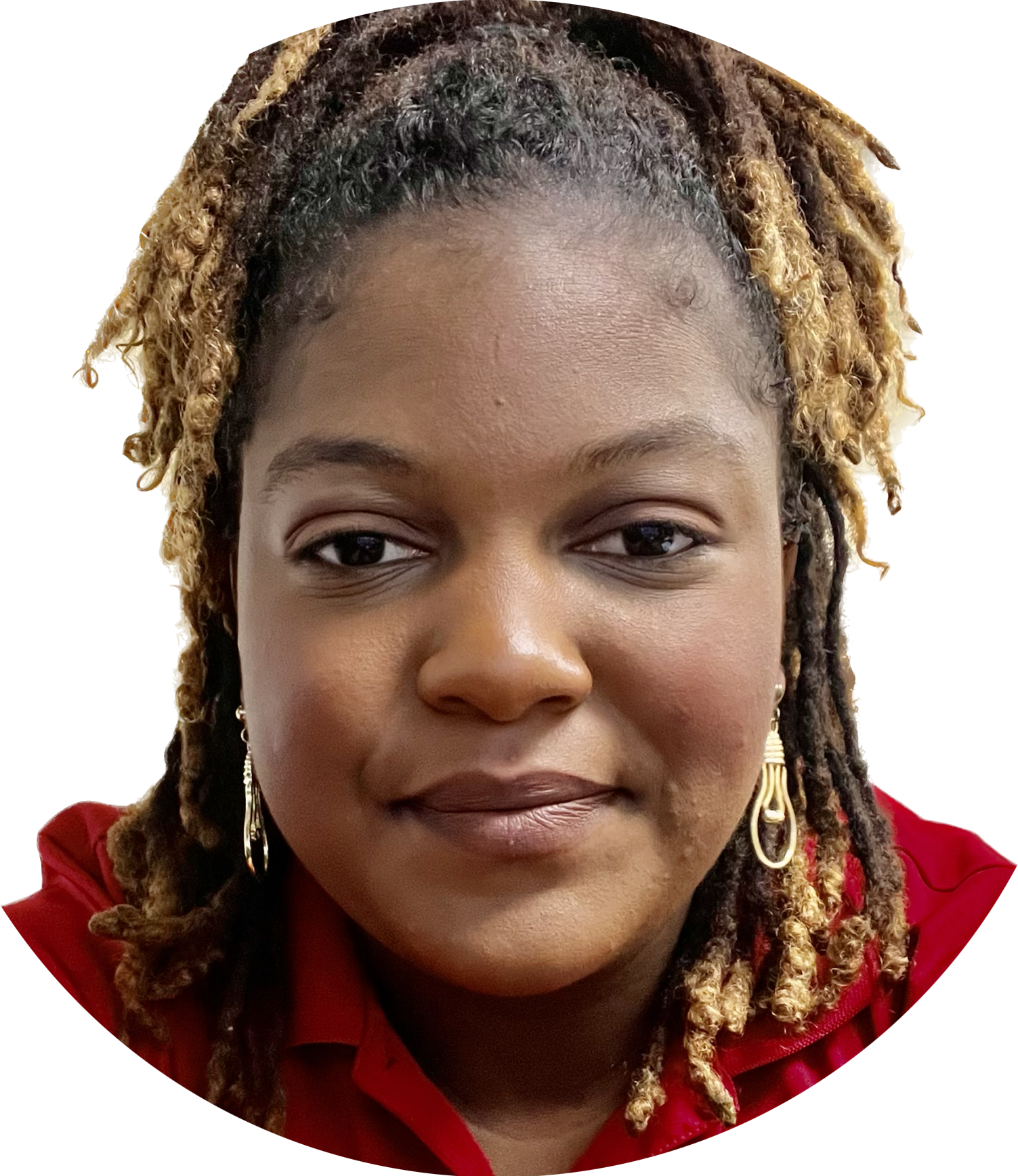 Tara Block is a proud San Diego native, she was raised in Lemon Grove and currently resides in Southeast San Diego. She works for a program in the heart of her community, known as the San Diego County Black Infant Health Program (BIH). In addition to working at BIH, she currently serves as a Court Appointed Special Advocate (CASA) with Voices for Children where she works closely with foster youth who have involvement with the juvenile justice system. Tara earned her B.A. in Public Administration in 2019 at San Diego State University. While at SDSU she was heavily involved with the Educational Opportunity Program acting as a peer mentor and most notably as President of the EOP Student Advisory Board (ESAB). As president of ESAB, Tara organized various community events and supported programs specifically designed for students like herself who were identified as first-generation students from low-income communities. During her time at SDSU, Tara also volunteered for Justice Corps and the Tariq Khamisa Foundation.
One of her most cherished undergraduate experiences was being awarded a $14,000 grant to send eight students to a Public Policy conference in Washington D.C. Tara is looking forward to joining the 2022 YPC Academy Cohort to connect with other LGBTQ+ folks and lend her voice as an advocate for equity and justice.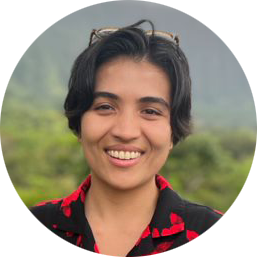 Devin Dihenia (they/them) is a queer nonbinary LGBTQ+ advocate who spent most of their adult life living in Los Angeles. They spent the last six years earning a doctorate degree in clinical psychology while simultaneously devoting their time outside of the classroom to learning about mental health issues from community leaders, particularly abolitionists and BIPOC. Devin's clinical interests include suicidology, LGBTQ+ youth mental health, psychodiagnostic assessment, and organizational burnout.  
Their demonstrated passion for suicide prevention and advocacy for LGBTQ+ youth began with their work at The Trevor Project as both a volunteer and Crisis Services Supervisor. They have since led a variety of research presentations, seminars, and community workshops in an effort to challenge hegemonic norms and promote a future where queer and trans people can thrive. As such, Devin aspires to continue to educate themself as a clinician as they pursue a career in mental health. In their downtime, they enjoy doing yoga, petting other people's dogs, and making color-coded spreadsheets of their favorite places to eat in the city.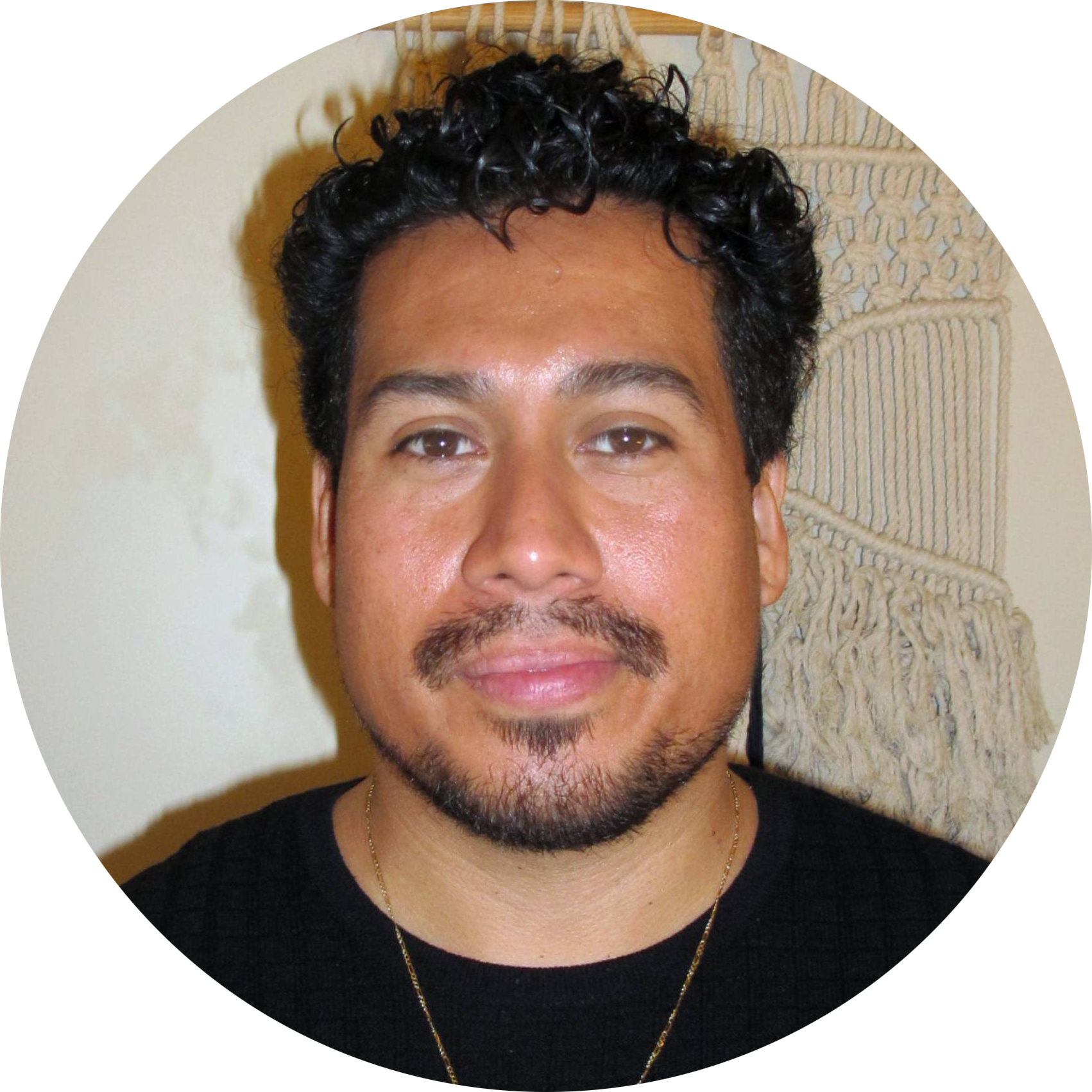 Jaime "Xaime" Aceves Equihua, M.S.
He/Him/El/She/Her/Ella
Xaime (he, him, el, she, her, ella,) is a first generation Latinx who grew up on both sides of the San Diego and Tijuana region. Xaime received a B.A. in Architecture from UC Berkeley and a M.S. in Counseling with an emphasis on Multicultural Community Counseling and Social Justice Education from SDSU. Xaime is currently an associate pursuing licensure as a Professional Clinical Counselor and working with Latinx, LGBTQ+, transitional aged youth and young adult clients in San Diego to support them on their path towards self-awareness and healing from mental health challenges and trauma. Xaime is also a creative individual and performs as the fabulous drag queen, Raquel Ita, at community events and educational settings. Raquel Ita uses her drag as an expressive outlet to educate and empower LGBTQ+ youth and individuals to be themselves. In his free time Xaime enjoys swimming, chicken sandwiches and reading.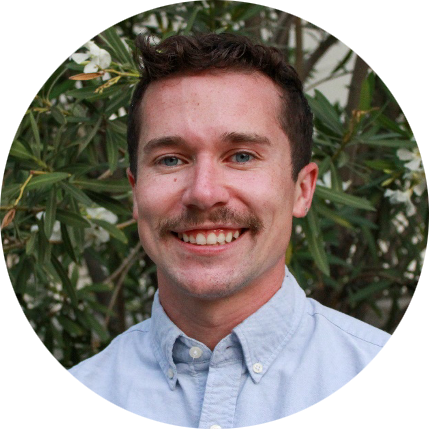 Johnny Gallagher
He/Him/His
John ("Johnny") Gallagher (he/him/his) is a research project manager and adjunct professor in the School of Speech, Language, and Hearing Sciences at San Diego State University. John hails originally from the east coast—he grew up in the suburbs of Philadelphia and moved to Amherst, Massachusetts to study Hispanic Linguistics and Communication Disorders at UMass Amherst.
John moved to San Diego in 2018 to attend SDSU, where earned his masters of arts in speech-language pathology with a speciality in bilingual pediatrics and collaborative practice. Since graduating from SDSU in 2020, John has moved around the US, practicing as a speech-language pathologist in Los Angeles and working as a visiting professor in Ewing, New Jersey. He has presented and published his research and clinical work in a variety of peer-reviewed conferences, journal articles, and regional newspapers. John is thrilled to be back in San Diego and to connect more with the LGBT Center. As a queer man passionate about social/educational justice, John is committed to improving educational outcomes for marginalized (especially LGBTQ+ and/or Spanish-speaking) youth and families through his research, teaching, advocacy, and practice.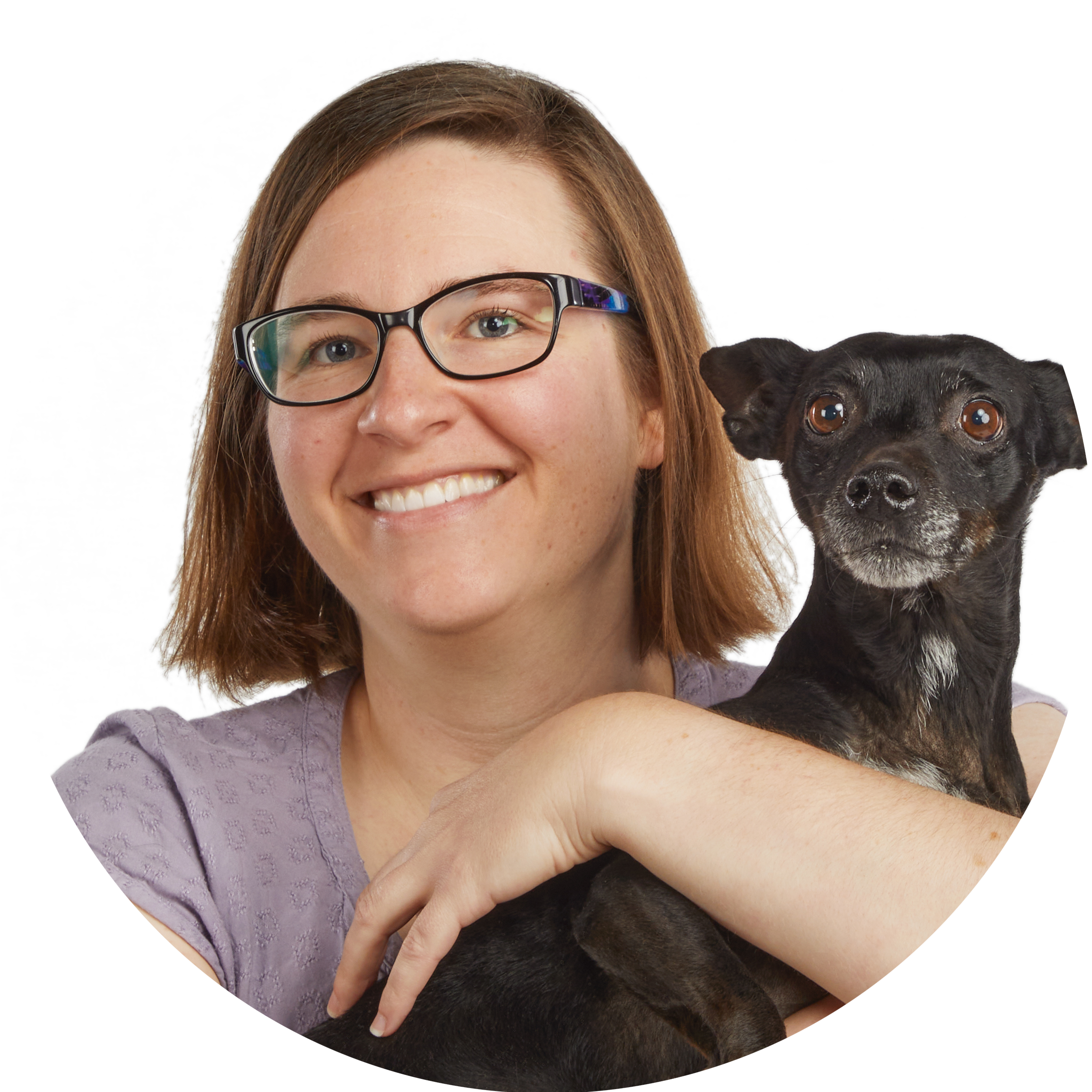 Rachel Graham
She/Her/Hers
Rachel Graham (she/her) currently works in corporate retail as a business analyst. A native of La Mesa, Rachel earned her B.S. in Ecology at UC San Diego and her M.S. in Entomology at UC Davis. After teaching high school science in Louisiana for several years, she decided to pursue a career in analytics. Rachel finally returned to San Diego in 2021 and became interested in housing advocacy, as housing policy combines her passions for social justice and the environment. Rachel became an enthusiastic member of the YIMBY Democrats of San Diego County and was recognized as Volunteer of the Year in August 2022. She is a member of the SANDAG Housing Policy Leadership Academy class of '22.
Rachel is also active in local politics, having volunteered for Councilmember Kent Lee's campaign throughout 2022, as well as for Joseph Rocha's campaign. In Fall 2022, Rachel became a founding member of RideSD, an arm of BikeSD that works to improve public transit in San Diego. She is also part of the San Diego Building Electrification Coalition, serving on the equity working group. Outside of her day job and advocacy efforts, Rachel enjoys nature photography, creating art, watching her aquariums, & baking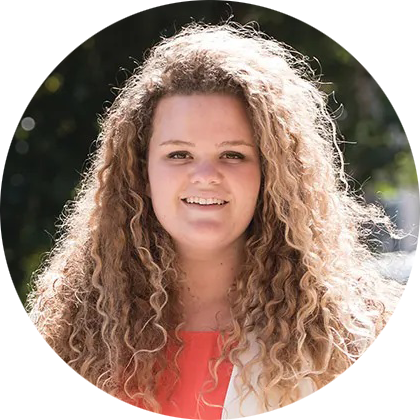 Jen Hibberts (she/they) works as the Grassroots Organizing Coordinator for San Diego Pride, recruiting, training, and managing volunteers for Pride's outreach and civic engagement programs. Before joining Pride, Jen organized in a variety of communities around Public Interest Issues with the Student PIRGs. She worked with students at the University of Oregon to ban plastic foam cups and containers in Eugene, and registered thousands of students to vote in Arizona, Georgia, and North Carolina. Jen has a degree in Biosystems Engineering from Clemson University, where she also was a competitive debater. In her free time Jen loves to surf, hike, and read.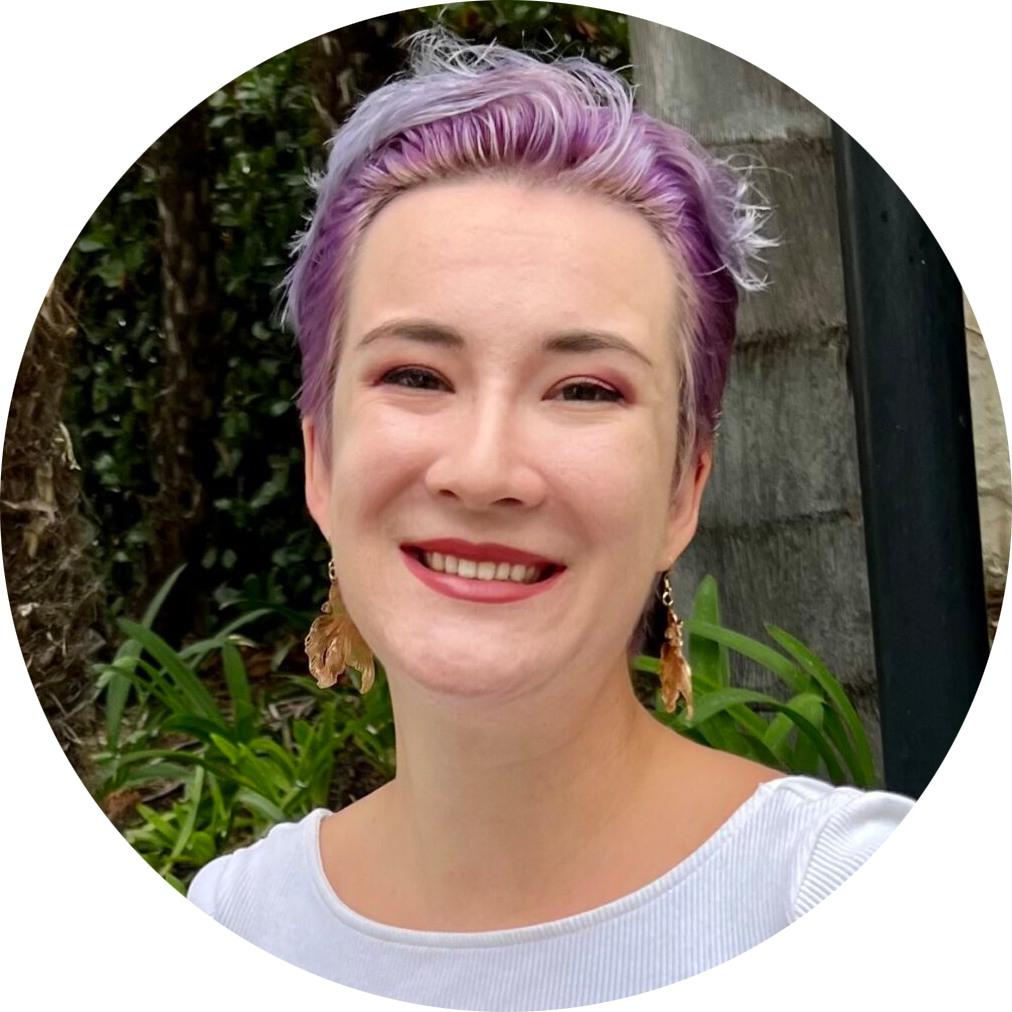 Lo Horst (they/them/she/her) serves as San Diego Pride's Philanthropy Manager, building individual giving, major gifts, and community support for Pride's year-round programs, events, and annual celebrations. Additionally, Lo serves as a lead member of the LGBTQIA+ Survivor Task Force, committed to bridging gaps in support, training, and resources related to sexual and relationship violence (in all forms) in the LGBTQIA+ community. 
 
So far in their professional career, Lo has worked across a broad range of capacities in the nonprofit field, including direct client service, emergency response, volunteer management, educational outreach, social media, event coordination, grant writing, fundraising, and more that has developed their passion for nonprofit development. They are passionate about advancing the rights and opportunities available to historically oppressed and marginalized peoples through collaborative community and resource building. Lo holds a Bachelor's degree in English and minor in Gender Studies from California Polytechnic State University, San Luis Obispo and is a member of the San Diego Chapter of the Association of Fundraising Professionals. 
 
Lo lives in the Hillcrest/North Park neighborhood with their partner, Emily, their puppy dog, Hero, and a growing collection of gemstones, minerals, and fossil specimens. In her free time, Lo volunteers with Planned Parenthood of the Pacific Southwest, goes to the San Diego Zoo, does yoga, and explores San Diego's local businesses and art galleries.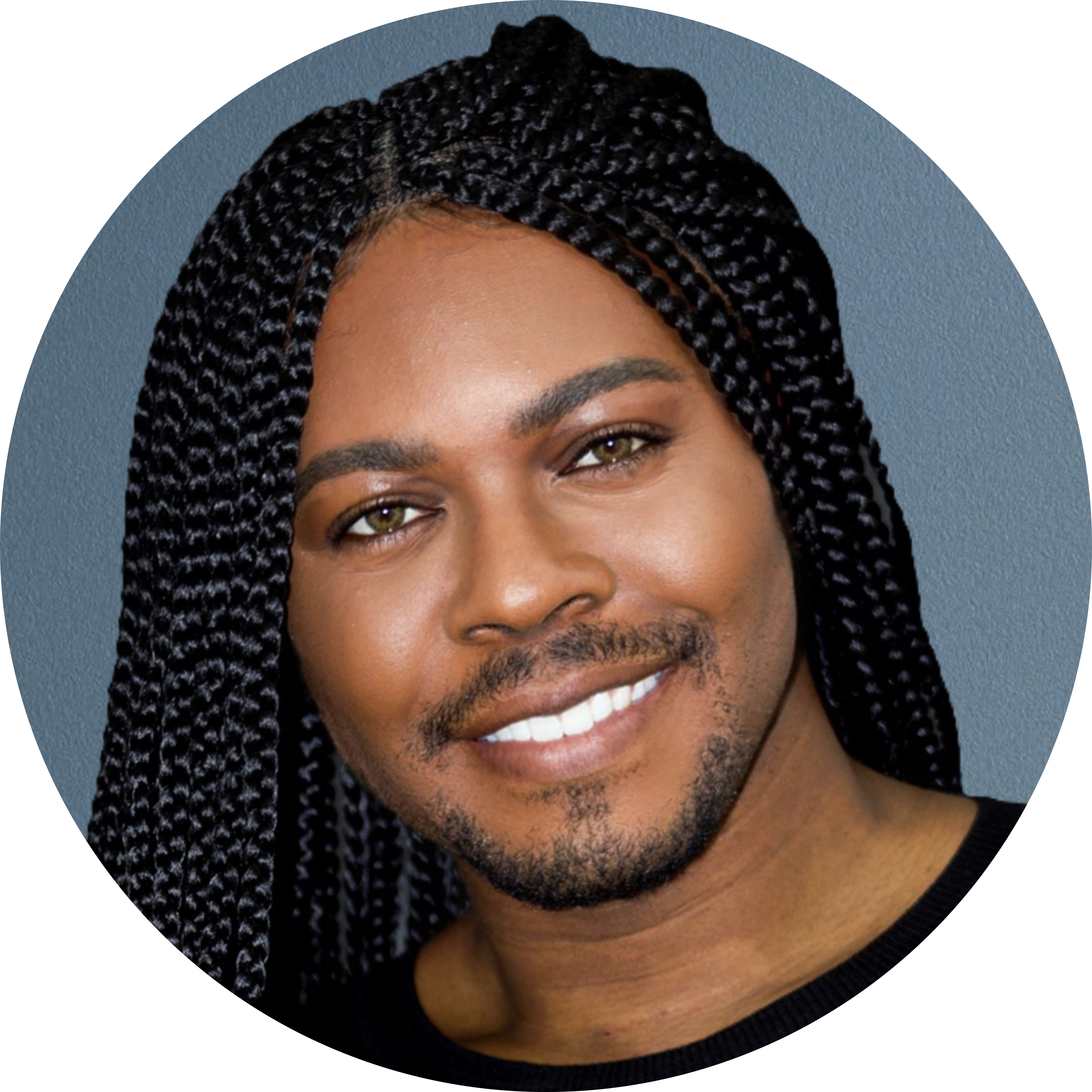 Denali Jöel (they/them), is a third gender Multidisciplinary Artist, Fashion Griot, Creative Cultural Producer, and Educator. Born and raised in Kingston, Jamaica, they moved to New York City in 2014 as a refugee but quickly re-engaged with their art to explore fashion and costume design as narrative tools for deeper conversations. Their fashion-centric art praxis is called The Studio Aṣa— it sits at the intersection of design, art, performance, and community engagement with the intention to advance humanity; particularly focused on queer equity, and Afro-diasporan histories, futures, collective healing through radical imaginings.
In addition to their design/art praxis, Denali Jöel is now the Youth and Community Programs Coordinator at The New Children's Museum in San Diego. Before moving to the city in December 2022, they were the Fashion & Social Justice teaching artist in residence at the DreamYard Project in the Bronx and a guest lecturer at the University of Southern Denmark on the topic of Decoloniality in Fashion. Their fashion art and film was recently part of an international exhibition at the Agnes Etherington Art Centre in Ontario, Canada entitled "History Is Rarely Black or White"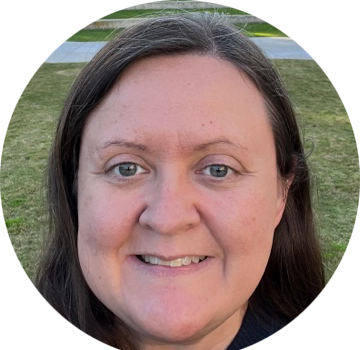 Shannon Milligan (she/her) is currently the Director of Student Affairs Assessment, Evaluation, and Organizational Development at UC San Diego.  In this role she provides development for colleagues on equity-centered assessment and data usage, as well as implementing assessments on student learning and the student experience.  She is also the President-Elect of the Association for the Assessment of Learning in Higher Education (AALHE), and excited to bring queer visibility to the leadership of the organization. 
Originally from Oklahoma, Shannon graduated from Oklahoma State University with a Bachelor's in Psychology and Master's degrees in Educational Measurement and College Student Development.  She then moved to Chicago and fell in love with the vibrant LGBTQ+ community there (even with a lack of spaces centered on certain gender identities!).  While there she got both a PhD in Educational Measurement from the University of Illinois at Chicago and her dog, Bentley.  In 2019 Shannon (and Bentley) picked the beach and mountains over frigid winters and moved to San Diego.  She is excited to become more connected to the San Diego community, and enjoys hiking, reading, and building Lego sets.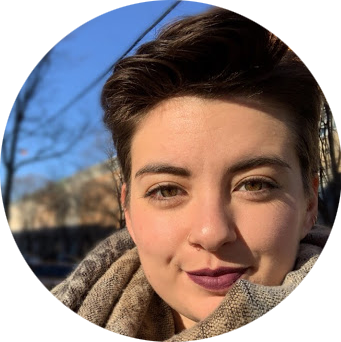 mica grace miragliotta
They/Them
Mica works in the County of San Diego's Office of Equity and Racial Justice as a Management Fellow. They are responsible for a range of projects, including anti-racist strategy and administrative policy, developing training materials and equity tools, and managing communications channels. mica moved to San Diego in 2020 to pursue a Masters degree in Peace and Justice Studies from the University of San Diego. While there, they co-chaired of the LGBTQIA2S+ Graduate Student Association.
They are from Massachusetts by way of New York, where they facilitated workshops that engaged youth in human rights advocacy through creative projects. mica practices collage and other crafts, recently picking up pottery. They are committed to collective liberation, abolitionist futures, and building communities of care.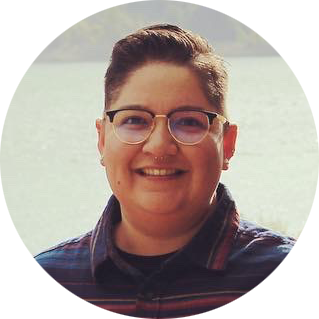 Yey Morales (they/them), is a Queer Non-Binary Latinx person originally from La Puente, California. They received a Master's degree from UCLA in Higher Education and Organizational Change, and a double Bachelor's degree from UCSD in Ethnic Studies and Urban Studies & Planning. 
 They previously worked in higher education and served as Assistant Dean of Students and Director of International Student Services at Claremont Graduate University.  
They paused their PhD studies at CGU to relocate to San Diego where they currently lead the youth services team at The Center.  
They hope to grow as a leader within the LGBTQIA+ community and are excited to be part of the YPC 2023 cohort!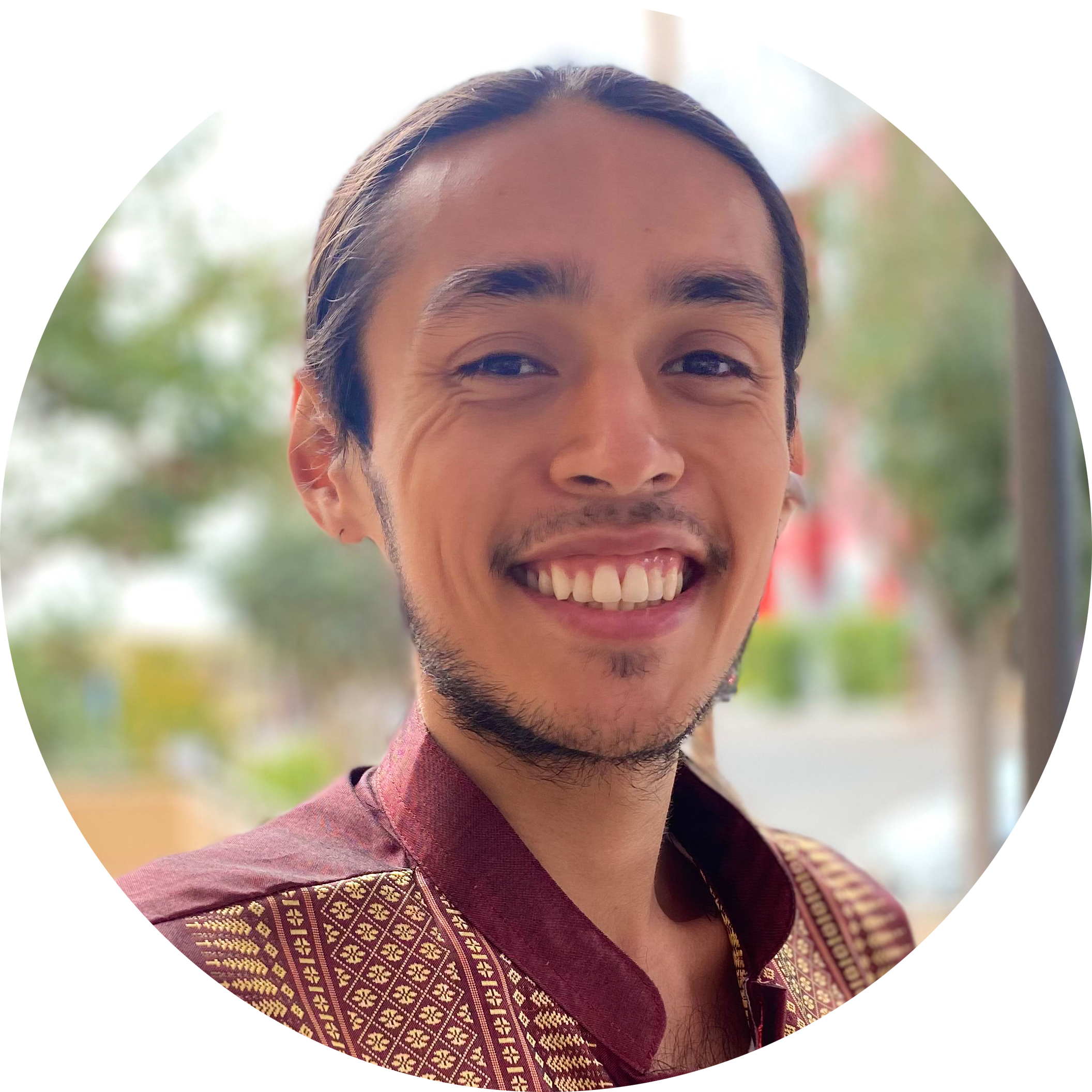 Aaron Ngan (he/they) is a queer, second-generation son of a Cambodian refugee who grounds themselves with community and practices solidarity, abolition, and care.
Currently working as the Civic Engagement Coordinator at The Center, they work to mobilize and empower the San Diego LGBTQ community alongside BIPOC, immigrant, and refugee communities. He enjoys performing KPOP dances and playing video games in his free time.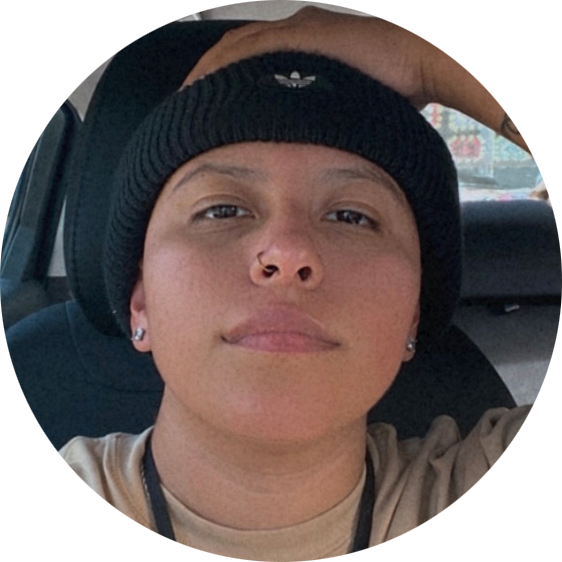 Growing up all throughout the San Diego region, Anita brings first-hand lived experience to the work they encounter every day, not only through housing instability, but also with their identity, as a non-binary 2nd generation Mexican-American. From noticing the heavy police presence in her neighborhood, to the trauma-heavy stories students like her are asked to load onto scholarship prompts, it was not hard for Anita to piece together the adversities that are put on individuals like herself to simply live. Though she has worked in the service industry since she was 14, Anita was able to gain a Bachelor's Degree in Social Work, from Humboldt State University in 2022 and now currently works as a Housing Navigator for The San Diego LGBT Community Center, under the Housing Our Youth program, a program dedicated to assisting young adults aged 24 and younger, experiencing homelessness or housing instability and provide them with immediate housing and wraparound support to seek more permanent housing.
Through this work, Anita finds herself being the person she wish she had growing up and at the same time, continuing to better her work each day whether it be multiple trainings on inclusivity, or spending hours seeking housing alternatives for youth to utilize. This work motivates her to use her passion of highlighting lived-experiences in the workplace, advocating for marginalized communities, and disrupting traditional professionalism practices. Prior to this current role, Anita has served time in numerous supervisor roles, internships, and volunteer positions in a variety of topics including but not limited to, Harm Reduction, Sexual health and Wellness, houselessness throughout California, and Racial equity! When not in the office, Anita can be found spending time with her loved ones whether it be at the beach, a park, or in someone's backyard grilling and listening to oldies!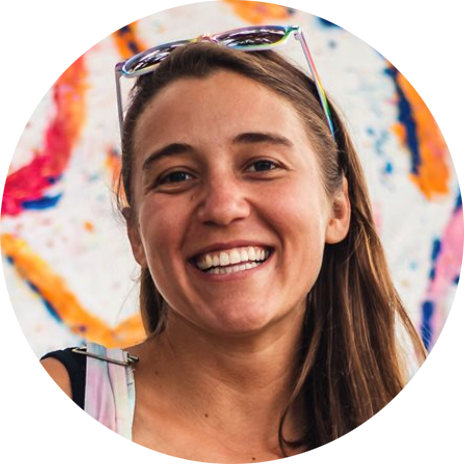 Lieutenant Julie Roland is a helicopter aircraft commander who has deployed around the world as a MH-60R pilot. She is a member of the San Diego Leadership Alliance, League of Women Voters, Women's Foundation, Truman National Security Project, and the Rotary Club, through which she coaches local high school students in public speaking. Julie currently attends the University of San Diego School of Law part-time and is a 1L representative for Pride Law, the Women's Law Caucus, and the Public Interest Law Foundation. Off campus, she is a member of the Tom Homann LGBT Law Association and the Lawyers Club of San Diego. In her free time, she started Just Tryna Make Friends, a 501c3 nonprofit with a mission to promote the arts and build community through a variety show produced monthly at the Diversionary Theater, the 3rd oldest LGBT theater in the country.
In 2022, Julie was named a finalist in San Diego Business Journal Magazine's Business Women of the Year. She has also been a magician member of the Academy of Magical Arts since 2018 and is currently teaching herself to juggle.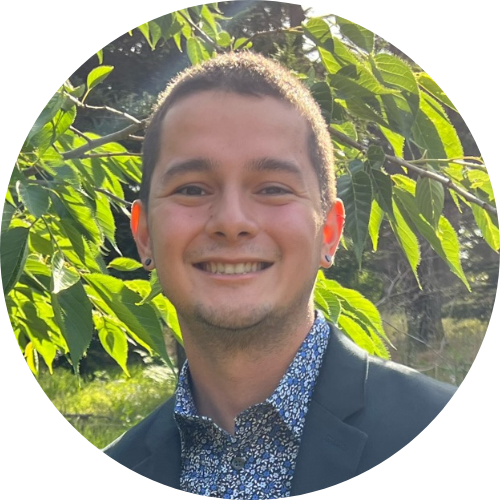 Alex Romero
He/El/They/Elle
Alex Romero is a queer, chicanx, neurodivergent person who graduated from Stanford University with a BS in Biology and an MS in Management Science & Engineering. Alex currently works as a Latino/a/x & Immigration Services Coordinator at The San Diego LGBT Community Center where they largely focus on supporting LGBTQ+ asylum seekers navigating the US immigration system and other San Diego resources. They also represent The Center on the San Diego Immigration Rights Consortium Advisory Board. Alex is passionate about event planning to create community within the LGBTQ+ Latina/o/x San Diego community. 
Before their work at The Center, Alex held various roles in the disability advocacy field. They served as president and financial officer of a volunteer organization called Kids with Dreams leading a team of ten program coordinators to host inclusive, accessible events for disabled youth. Through his experience as a peer mentor for neurodivergent college students, he discovered his love for interpersonal work and building relationships upon mutual respect and trust. 
In their free time, Alex likes to play beach volleyball, cook, and continue learning American Sign Language.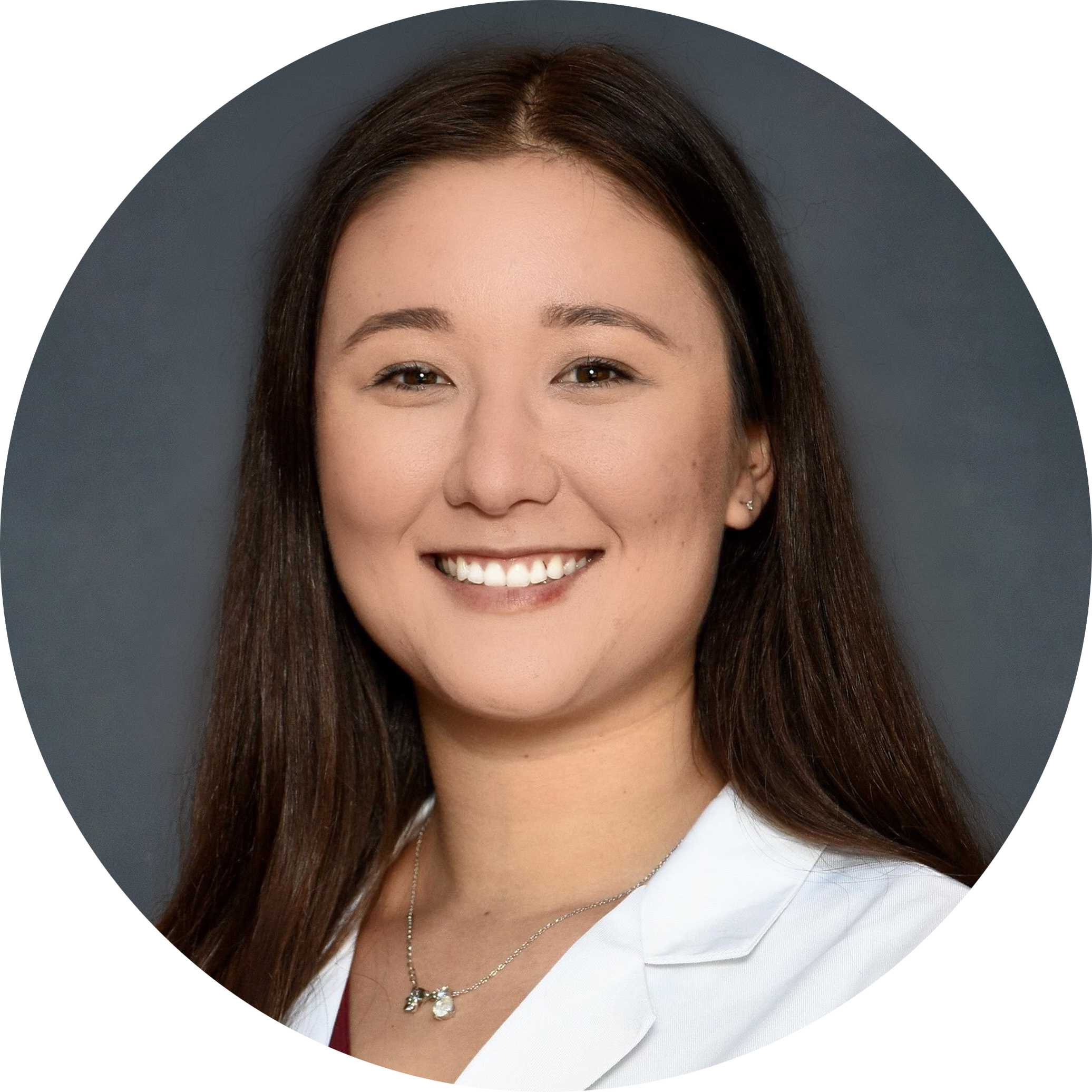 Jenna Stelmar is a first-year medical student at UC San Diego School of Medicine who is passionate about addressing health disparities experienced by the LGBTQ+ community and other historically marginalized populations. As a medical student, she is on the leadership board for UCSD School of Medicine's LGBTQ+ PhaM student affinity organization, Korean American Medical Student Association, and Association of Women Surgeons. Jenna was born and raised in Ventura County, California and graduated from UCLA with a B.S. in Psychobiology. She has found a deep sense of purpose working directly with the LGBTQ+ community over the past 5 years through volunteering with the Trans Wellness Center in Los Angeles, where she helped organize the Center's first gender-affirming clothing drive, and by contributing to research on gender-affirming care at the Cedars-Sinai Transgender Surgery and Health Program.
Jenna's current research focuses on improving transgender and gender nonbinary (TGNB) patient-centered outcomes and better understanding the sexual health of cisgender women and TGNB individuals—populations that have historically been left out of the conversation in medicine. In her free time, Jenna loves to play the guitar, snowboard, and go camping with friends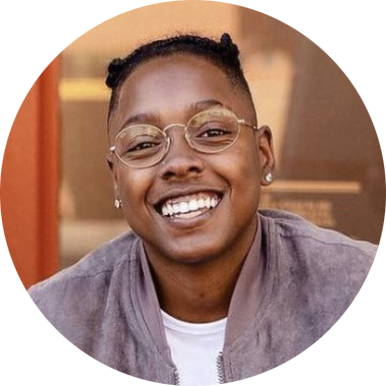 Turquoise Teagle
They/Them
After serving 10 years in the United States Navy Turquoise has dedicated her passion to helping unhoused individuals rebuild their lives. Turquoise is an Unhoused Care Team Coordinator at Downtown San Diego Partnership currently. Turquoise specializes in housing, mental health, substance abuse as it relates to unhoused individuals. To highlight Turquoise's contributions with unhoused individuals the Regional Task Force on Homelessness awarded Turquoise Program Staff of the year.
Turquoise contributes a positive attitude paired with tireless energy to encourage others to work hard and succeed. Turquoise is inspired daily by family and hometown football team the Philadelphia Eagles.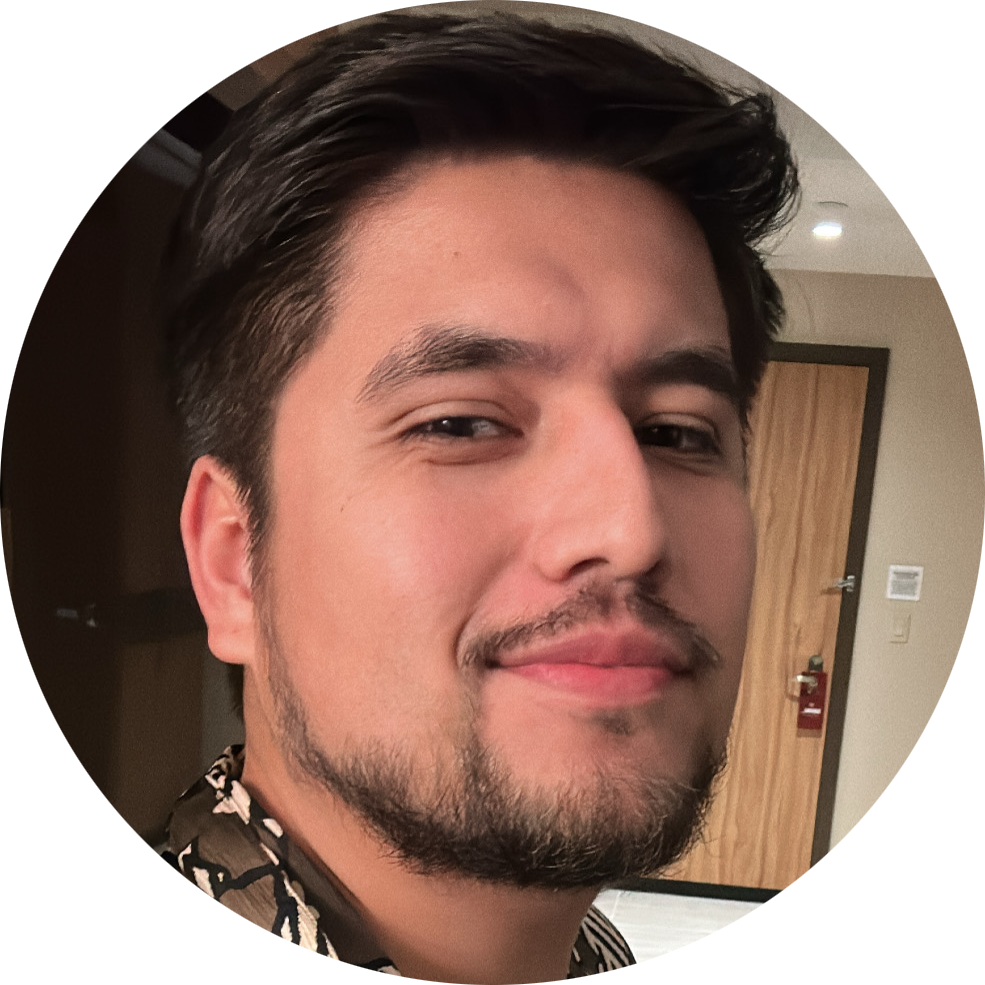 Angel Soltero (he/él) is a first-generation Mexican-American born in San Diego who spent most of his teen years and young adulthood in Guadalajara, Mexico. Angel currently works as an Associate Banker with J.P. Morgan Chase and plans to become a Relationship Banker within the next two years.
Angel enjoys painting, drawing, cooking, traveling, and exercise. He lives in Hillcrest with his partner David and their cat, Gia. 
Sign Up For
The Center's E-News