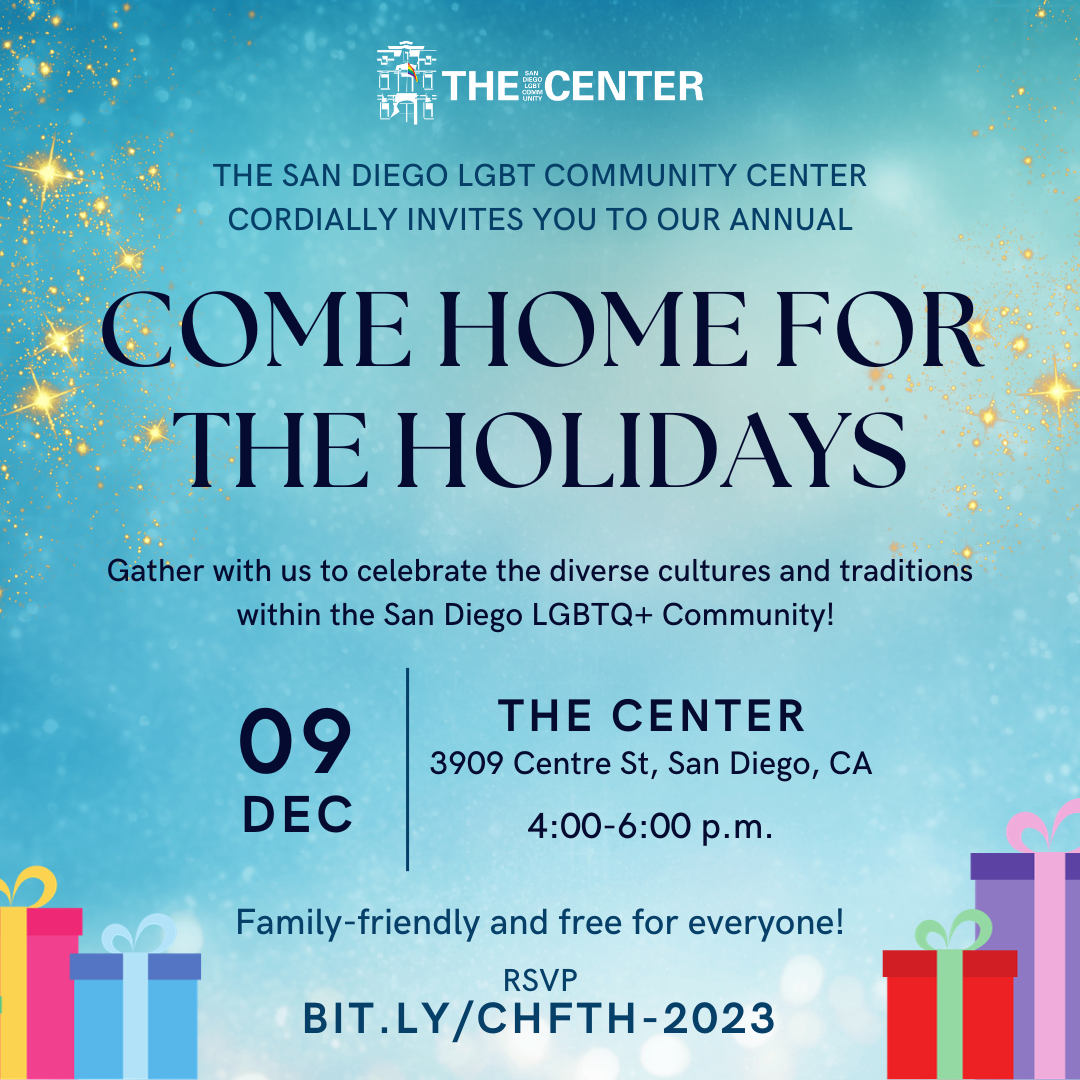 COME HOME FOR THE HOLIDAYS 2023
The San Diego LGBT Community Center, cordially invites you to our annual: Come Home For The Holidays
Gather with us to celebrate the diverse cultures and traditions within the San Diego LGBTQ+ Community!
Enjoy a free tasty meal from a local restaurant, learn about resources from our partner organizations, and for those in need of a little extra help this season, we'll send you home with a bag of non-perishables for your pantry.
When: Saturday, December 09, 2023
Time: 4:00 PM – 6:00 PM
Where: 3909 Centre Street, San Diego, CA 92103
Family-friendly and free for everyone!
RSVP TODAY:  bit.ly/chfth-2023
The San Diego LGBT Community Center, te invita cordialmente a Come Home For The Holidays.
¡Acompáñanos a celebrar las diversas culturas y tradiciones dentro de la comunidad LGBTQ+ de San Diego!
Disfruta deliciosa comida de un restaurante local, aprende sobre otras organizaciones y si necesitan una ayuda extra durante esta temporada, los enviaremos a casa con una bolsa de productos no perecederos para su despensa.
¿Cuándo?: Sábado 09 de diciembre de 2023. 4:00 – 6:00 pm
¿Dónde?: 3909 Centre Street, San Diego, CA 92103
¡Apto para familias y gratis para todos!
Regístrate hoy: bit.ly/chfth-2023