Community Ofrenda / Ofrenda de la Comunidad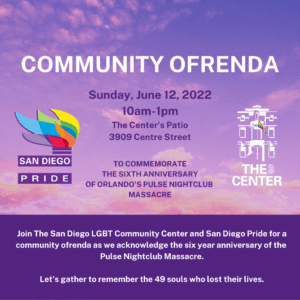 On Sunday, June 12, join The San Diego LGBT Community Center and San Diego Pride for a community ofrenda as we acknowledge the six year anniversary of the Pulse Nightclub Massacre. Let's gather to remember the 49 souls who lost their lives. 10am-1pm at The Center's Patio, 3909 Centre Street.
Únete con The San Diego LGBT Community Center y San Diego Pride para una ofrenda comunitaria en conmemoración del sexto aniversario de la masacre del club Pulse. Reunámonos para recordar las 49 personas que perdieron sus vidas.