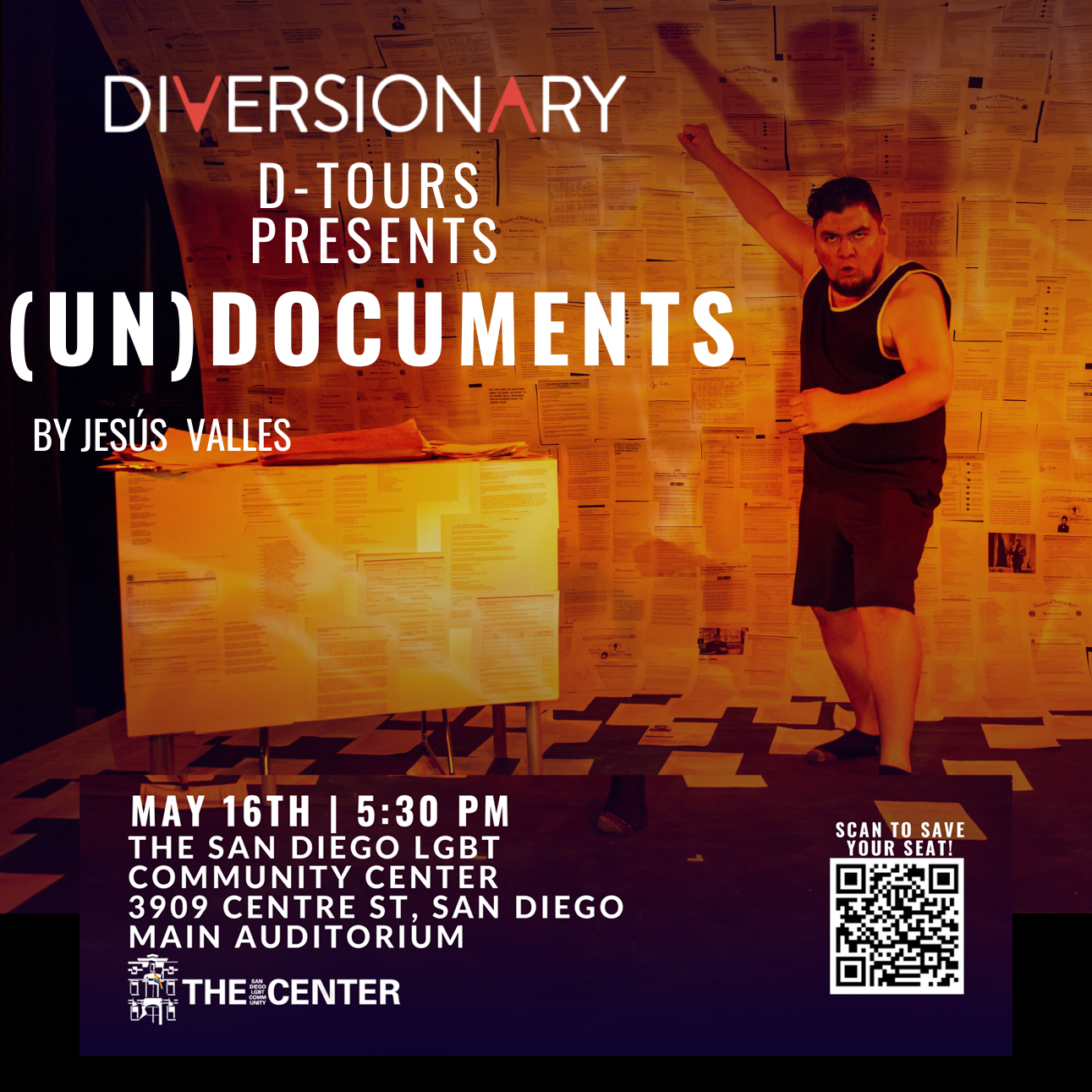 Diversionary Theater presents (Un)Documents by Jesús Valles
May 16, 2023 – 5:30PM – FREE!
The San Diego LGBT Community Center Auditorium
With a single phrase, you can give up your country. With a single signature, you can tear a family apart. With a single word, you can learn to transform. In their first full-length solo show, (Un)Documents, award-winning actor and poet Jesús I. Valles journeys across both sides of a river with two names, moving between languages to find their place as a child, a lover, a teacher, and a sibling in a nation that demands sacrifice at the altar of citizenship. (Un)Documents won three 2018 B. Iden Payne awards for Outstanding Original Script, Outstanding Lead Actor in a Drama, and Outstanding Direction of a Drama, and was nominated for Outstanding Production of a Drama. There will also be a talkback portion for guests to partake in.
DIVERSIONARY THEATER
Founded in 1986, Diversionary Theatre is recognized as one of San Diego's best theatres, and proudly showcases the most vibrant and diverse group of talent the city has to offer. We aim to foster and amplify the next generation of lesbian, gay, bisexual, transgender, queer, and other marginalized voices by providing the local community with live entertainment in a dynamic, inclusive, and welcoming environment that celebrates and preserves our unique culture.
Diversionary Theatre began as a forum to shed light on the important social issues affecting the quality of life of LGBTQ+ people, namely the AIDS crisis and its immediate and devastating impact on the community through the performing arts.